Chew Chew Mama (Cindy Hooks), is a nationally certified and clinically trained speech language pathologist and feeding therapist who specializes in pediatric feeding and swallowing disorders. Cindy has worked as and SLP for the past 11 years in a variety of settings including the majority at John Hopkins All Children's Hospital In Patient and Out Patient Clinic, Wolfsons Childrens Hospital, Public school settings, as well as currently has her own private practice.  Cindy's advanced experience includes certification in Certified lactation counseling, Beckman Oral Motor, International Association of Infant Massage, Fragile Infant Feeding Institute Attendant and working in accredited Children's Hospitals with children suffering from feeding disorders due to prematurity, oral motor disorders, cardiac surgery, craniofacial disorders, cancer, trauma, traumatic brain injuries, neurological disorders, as well as, behavioral feeding disorders and "picky eaters."
When Cindy is not helping kids swallow and "chew" at work, she is usually enjoying great talks with friends, being close to the ocean, seeking out new food adventures, creating delicious meals with her family or on the floor playing and pushing a "choo choo" with her own babies.
Pediatric feeding is her calling and that is how she became the Chew Chew Mama.
Our Independent Contractors
Chew Chew Mama, LLC offers diverse types of educational consultation services in the areas of speech, language, cognition and feeding to meet your children's individual needs. Chew Chew Mama, LLC utilizes independent contractors to provide comprehensive, educational consultation services with a modern approach for today's busy working families including phone consultations, Skype consultations, as well as, more personalized consultations in a variety of settings including home, child care settings and preschools. Our team of professionals includes nationally-certified Speech-Language Pathologists with a strong background in clinical pediatric settings that bring individual families expert knowledge and compassion.
Meet Jaclyn
Jaclyn Zarling is a Speech Language Pathologist (SLP) with a Bachelor of Science Degree in Communication Sciences and Disorders from the University of Florida, Masters of Science Degree in Speech Language Pathology from the University of South Florida and a Graduate Certificate Degree in Autism from Penn State University. She holds her Certificate of Clinical Competency (CCC) from the American Speech Language Association (ASHA). She has worked as and SLP for the past 13 years in a variety of settings including the majority at John Hopkins All Children's Hospital Out Patient Clinic, Public and Private school settings, served as the SLP on a Pre-School Diagnostics team for the public school, as well as currently has her own private practice.
Her major interests include, Autism Spectrum Disorder, Auditory Processing Disorder, Early Intervention of Infants and Toddlers, Reading, Learning Differences and Auditory-Based therapy for Hard of Hearing and Cochlear Implant infants and children.
Jaclyn's most favorite role is mommy to her two girls, Joy and Grace, born just 16 months apart. She can be found on most days singing songs and playing princess dress up.
Meet Aimee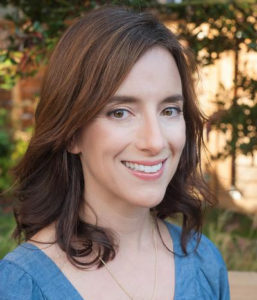 Aimee Brigham, a Speech Language Pathologist with expertise in Early Childhood Language Acquisition and Speech Sound Disorders, currently practices at Providence Children's Developmental Institute in Portland, Oregon. Prior to working at Providence, Aimee honed her pediatric skills in a variety of care settings including home health, private practice, and the public school system. After graduating Magna Cum Laude with a B.A. in Early Childhood Education, Aimee obtained a Masters of Communication Disorders in 2004 from Louisiana State University.
Practicing as a SLP for over 10 years, Aimee has supported children with Expressive and Receptive Language Delays, Autism, Down Syndrome, Apraxia, Articulation/Phonological Disorders, Fluency Disorders, and children using Augmentative and Alternative Communication (AAC). She completed specialized training in the Hanen Center's Program– It Takes Two to Talk. Aimee is skilled in using Picture Exchange Communication Symbols (PECS) for increasing communication, comprehension, and positive transitions. Recently, Aimee completed Linking Play to Function, a workshop highlighting play's essential role for development and learning across all ages. Aimee believes engagement -in activities of daily living – fosters communicative development. In addition, she underscores the importance of caregivers and their essential role in the achievement of developmental milestones.
Aimee is licensed by the state of Oregon and holds a Certificate of Clinical Competence from the American Speech and Hearing Association.
Meet Karina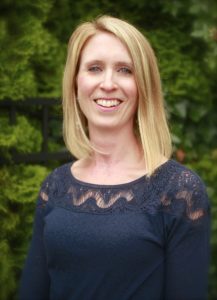 Karina Wolfe-Ackley, MT-BC is a Board Certified Music Therapist with twelve years of professional experience. She received her Bachelor of Science in Music Therapy from Marywood University where she also studied violin. She has completed additional Masters level course work from Georgia College and State University. Karina worked for twelve years as a school music therapist for students aged 5-21 with multiple disabilities for Monroe #1 BOCES in Fairport, NY. Her areas of expertise include autism spectrum disorder, downs syndrome, cerebral palsy, medically fragile, and emotional disturbance. She has worked as a member of an interdisciplinary team collaborating with speech pathologists, occupational therapists, physical therapists, psychologists, special education teachers, and parents. Karina uses music to help children achieve goals in the areas of academic, speech, social/emotional, and physical skills.
Karina resides on Long Island and is a busy wife of an Army pilot, and an even busier mom of three amazing little boys.
SaveSave
SaveSave
SaveSave
SaveSave
SaveSave