Here are my picks for the Top Holiday Gifts for picky eaters this year!  
Let the magic of holiday gift giving help your mealtimes all year long.  Promoting healthy eating is something that should be encouraged in small ways throughout daily routines and across settings and most of all, it should be fun!
Rainbow Innovations Today I Ate A Rainbow Kit
I absolutely L-O-V-E this toy!  My new friend, Kia, did an amazing job creating a product that actually gets kids excited about eating colors.  I've recommended Today I Ate A Rainbow to parents for years and I happily use it in my own home as well.  My boys love keeping track of the colors they've eaten and enjoy eating a rainbow every day.   Want one for your home?  Use coupon code: chewchew10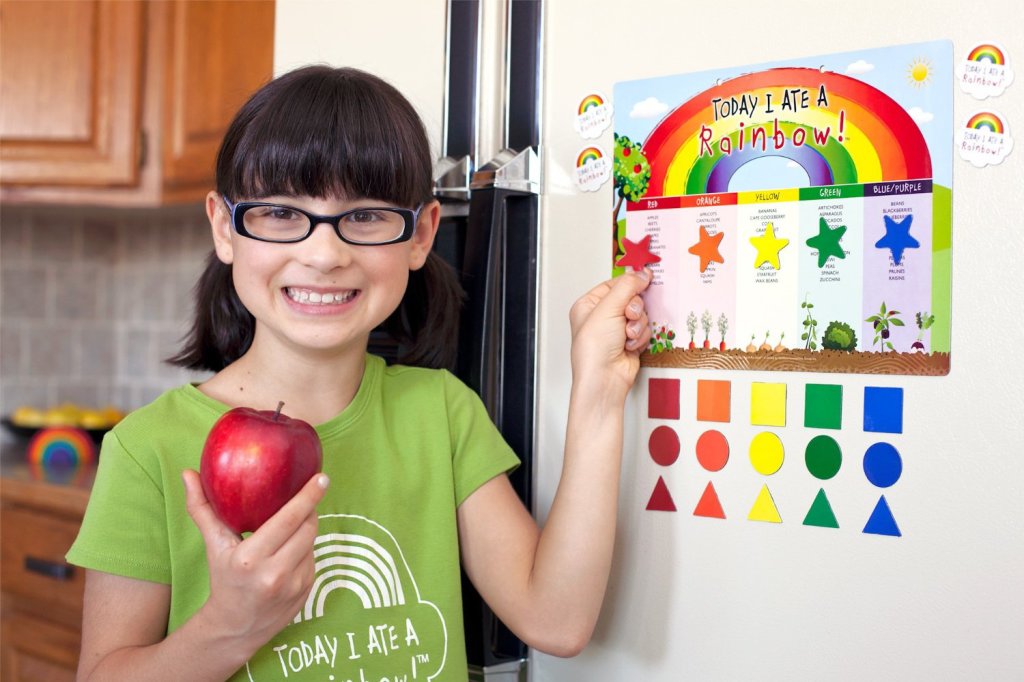 Glob All Natural Paint Pigment Packets, Set of 6 Colors
Have a budding artist at home?  Check out these natural paints that are made from fruit and vegetables! Are these fun or what? Pair these with a few homemade vegetable stamps and create a beautiful gallery.  Invite me to the opening!
Learning Resources Farmers Market Color Sorting Set
I love this color sorting set.  What a wonderful way to reinforce the importance of a variety of colorful foods through play!  Color sort, sort by size, length or shape and then get creative with your pretend play!  Y-U-M!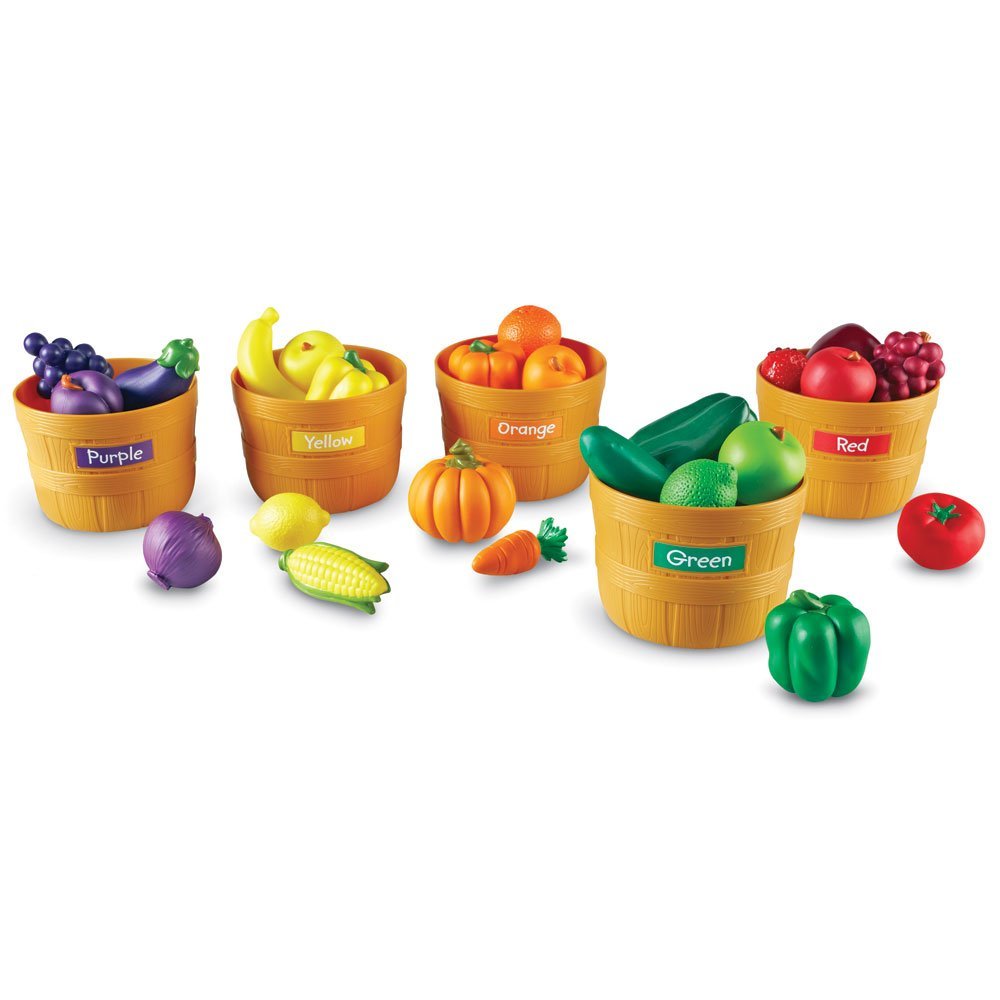 Fruitominoes – Teal
If you're going to play dominos, why look at plain old dots when you could be looking at the bright and beautiful colors of healthy food!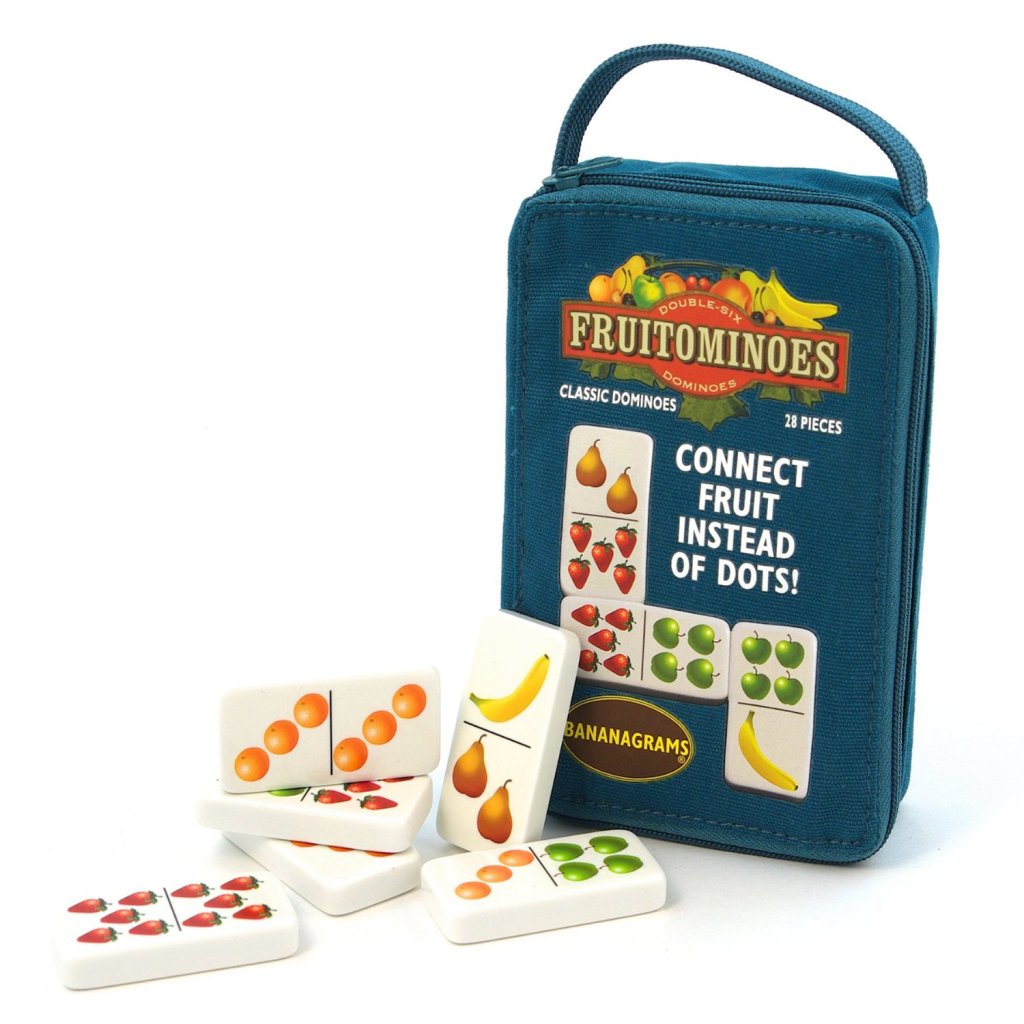 Mudpuppy Wooden Magnetic Fruits and Vegetables
I think these fruit and vegetable magnets are adorable and perfect for pulling out for all the snow days ahead.  Let your kids plant a garden on the refrigerator when the cold weather keeps you inside.  Use these fruits & veggies magnets to make art, build letters or shapes.  Let your imagination go wild!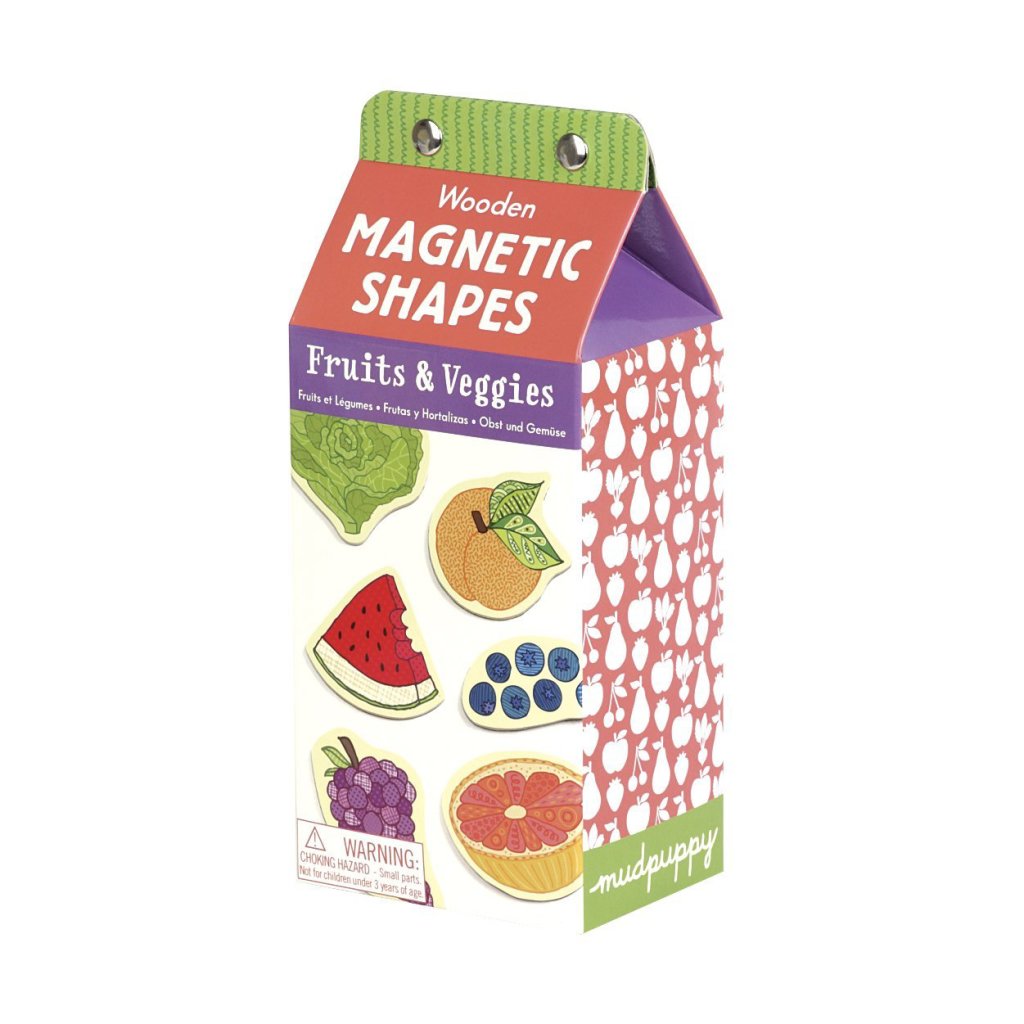 Barbecue Party Game
Here's a fun game to get your kids cooking!  Let them grill up vegetables and serve them with a side of giggles as they try to beat this silly, popping grill!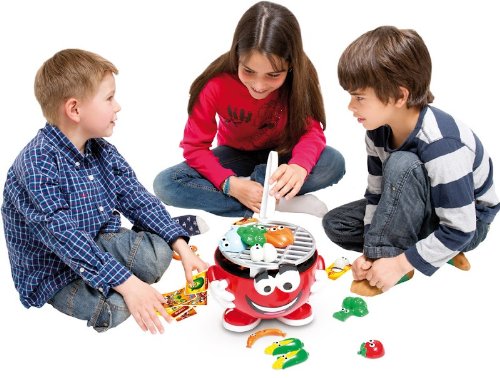 Prepared Slide Kit – Vegetables
Microscope slides for your little (or big!) scientist!  Get up close and personal learning about food without having to eat it.  Let yourself and your kids be amazed at viewing the details of healthy foods.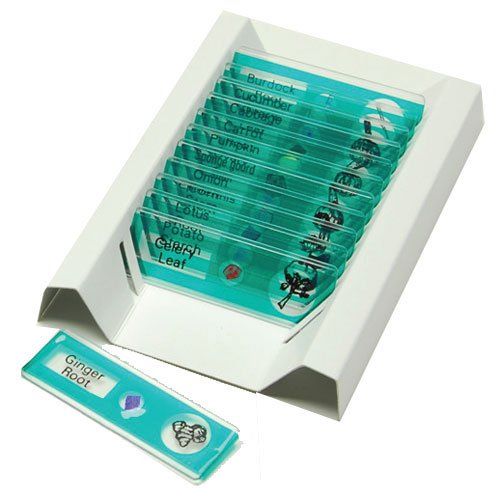 Petit Collage Nesting Blocks, Fruits and Veggies
Have a little one?  Help them build a tower full of color, fruits & veggies!  These sweet colorful blocks teach numbers, shapes and counting too.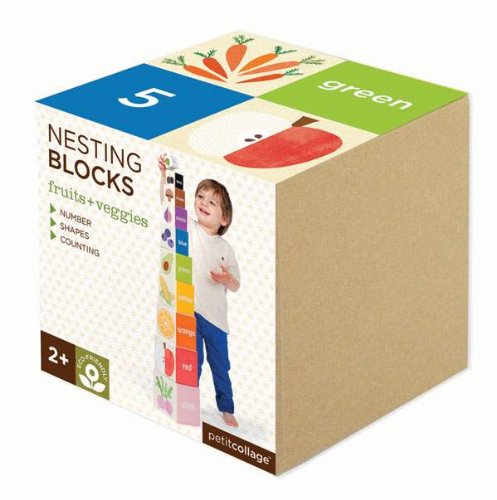 ALEX Toys – Bathtime Fun, Tub Soup, 801W
Rub-a-dub-dub, there are veggies in the tub!  That's right!  You can even reinforce the importance of fruit and veggies during bath time.  Let your little ones have fun stirring, mixing, pouring and creating a wonderful vegetable soup in the tub!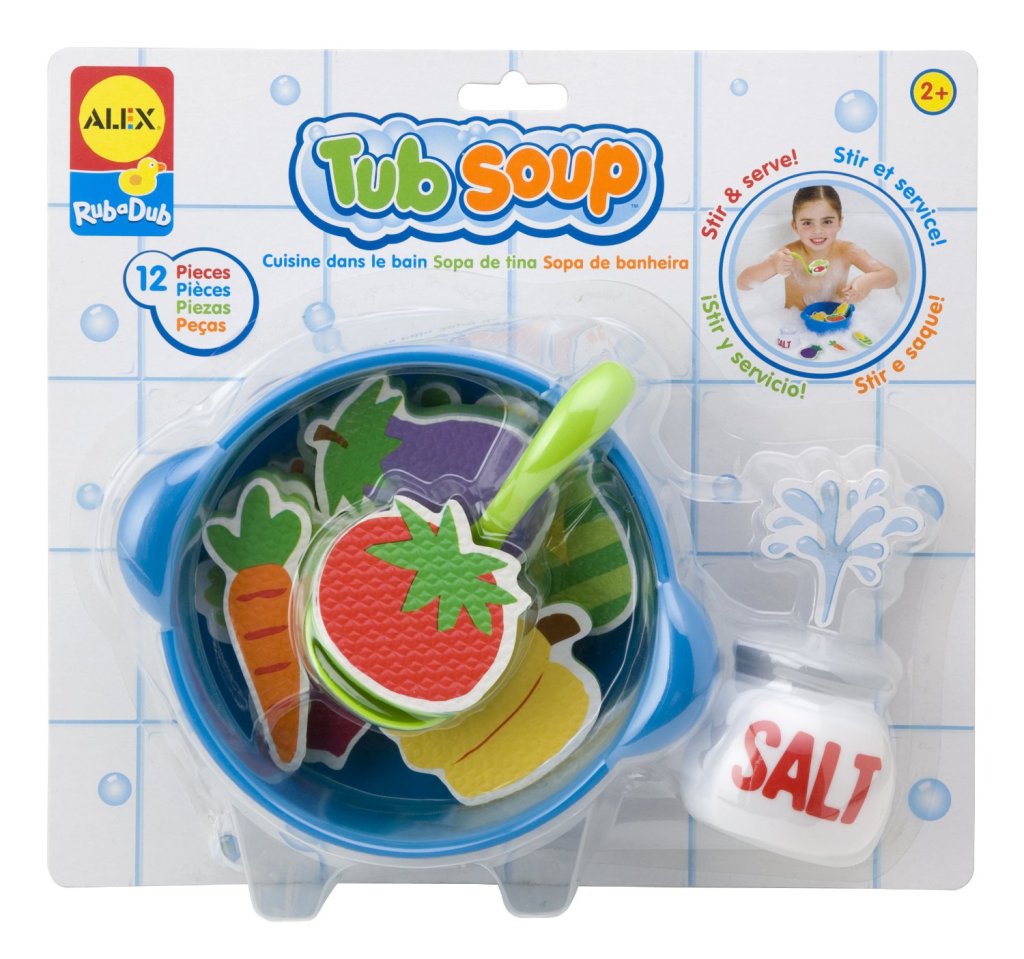 Vegetable Garden Playing Cards
They really do think of everything, don't they?  Check out these vegetable playing cards?  How fun would a game of GO FISH be with these cards?  Do you have asparagus? (No, Go Fish or perhaps Go To The Garden?!)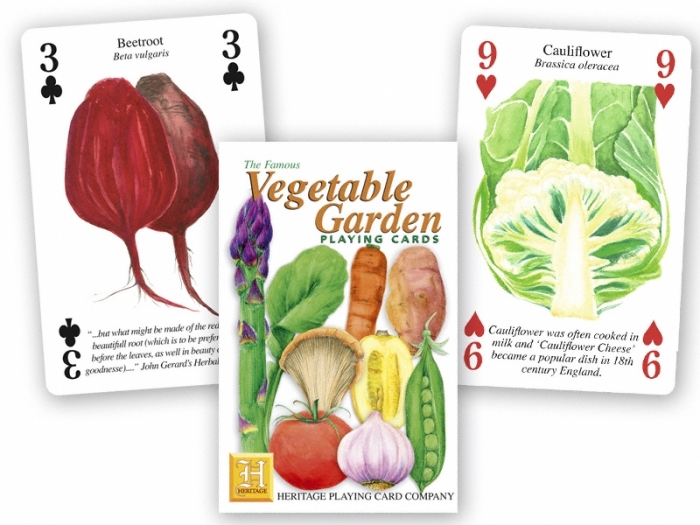 Slamwich Collector's Edition Tin
This is such a fun game!  You can expect lots of giggling as your family spends quality time flipping cards to build silly sandwiches!  "Slamwich teaches reading readiness skills, like visual discrimination and sequencing. While kids are flipping and stacking cards, they're actually learning how to recognize a series, make combinations, and anticipate what might happen."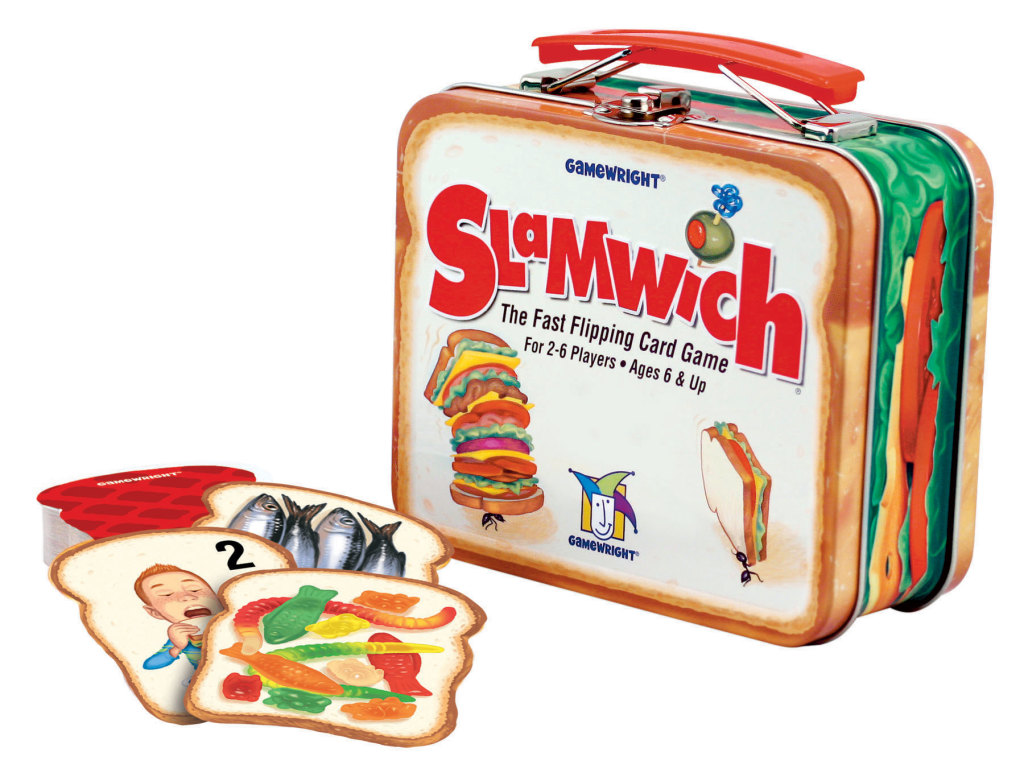 Peaceable Kingdom / Feed the Woozle Award Winning Preschool Skills Builder Game
This game will get your family doing the hula dance, the bunny hop, marching or going crazy trying to feed the woozle!  What's better than a feeding game that gets children moving at the same time? Nothing!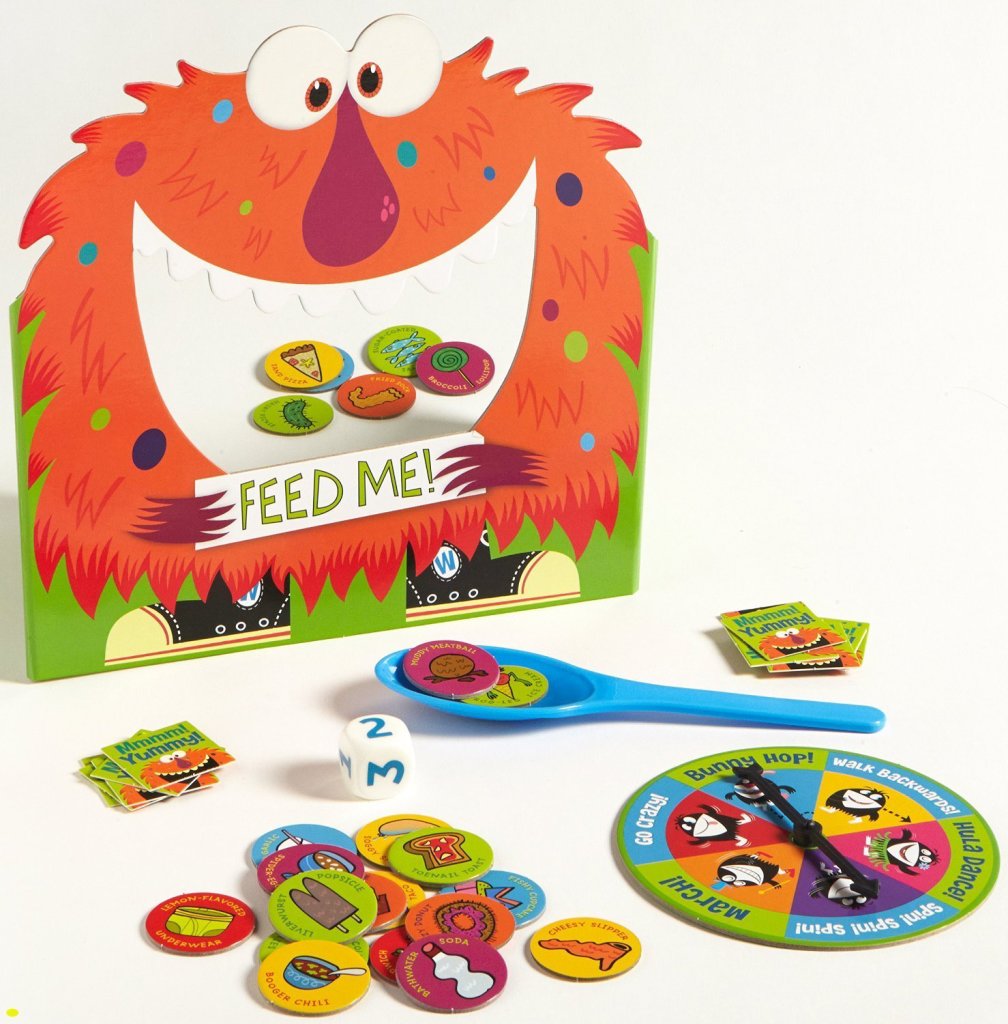 Chameleon Crunch Game
I love this chameleon game!  This little guy races around your house and challenges your kids to chase him and feed him a variety of colorful foods.  Not only does it get your kids moving; it's adorable.  This is a great game to play and also reference at the dinner table – "let's eat lots of colors tonight like the chameleon!"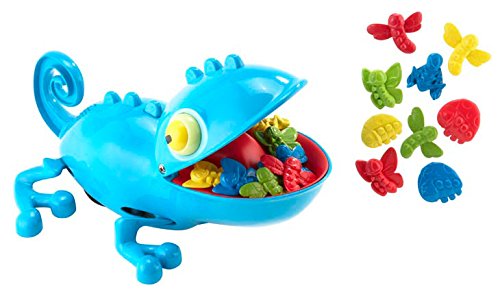 Sushi Go! – The Pick and Pass Card Game
As someone that loves both sushi and originality, I had to share this fun game!  Gain points for making the most maki rolls or for collecting a full set of sashimi.  Chopsticks optional!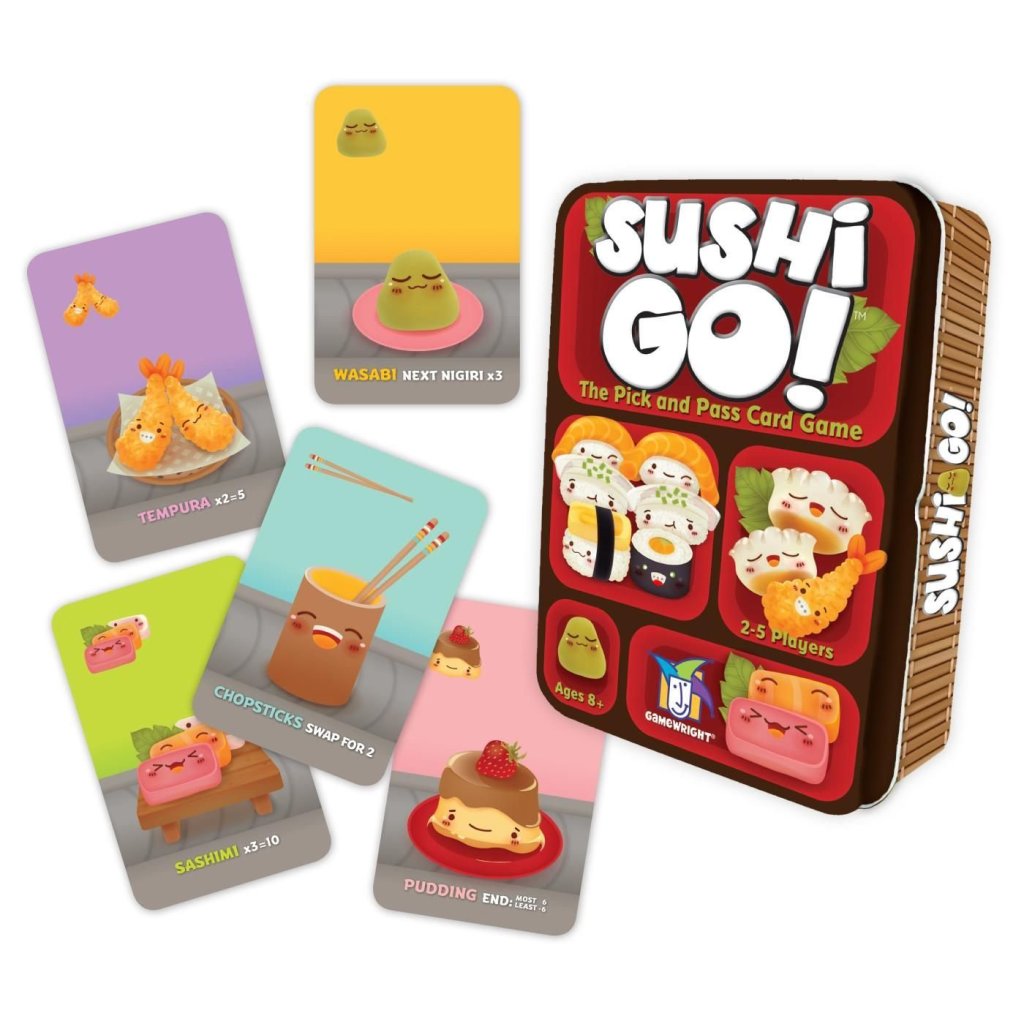 Give your family the gift of happier mealtimes all year long! Join Happy Eating Club, a virtual coaching program for parents of picky eaters available January 9th! Limited enrollment! Claim your spot and save 20% using coupon code: chewchewmama