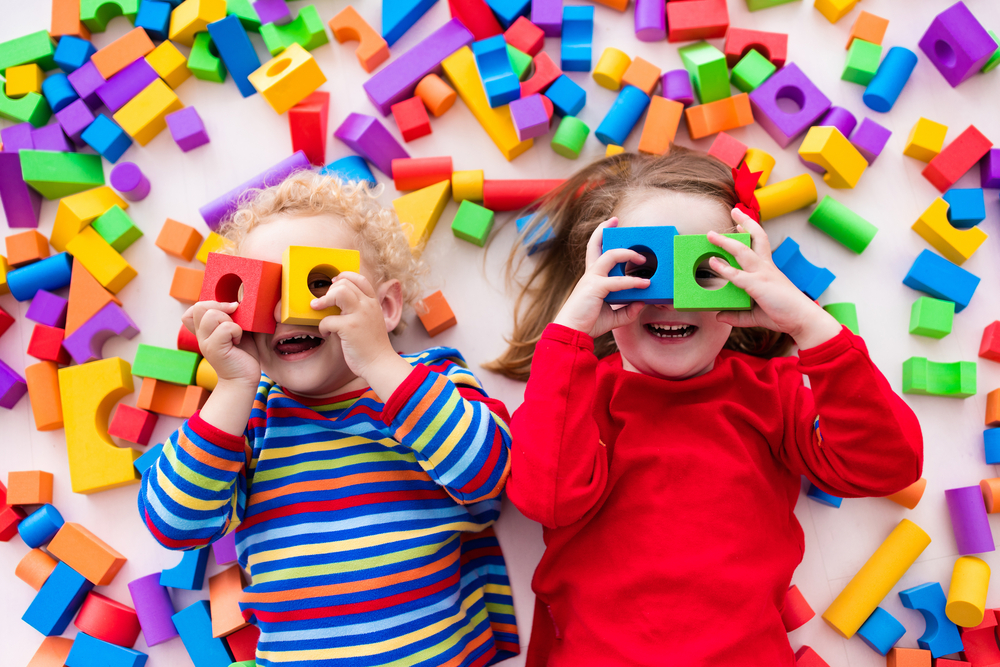 Did you know that playing with your children builds language?
When parents observe therapy sessions, they often remark, "What fun! Playing all day." They are absolutely right. Pediatric, speech-language pathologists love to play. What sometimes goes unrecognized is that this type of play can be hard work for both the client and the clinician. Speech therapists often use goal oriented play in their sessions, whether it is aimed at teaching a child to articulate /s/ accurately, or modeling the use of irregular past tense markers, or increasing comprehension of 2-step directions, or engaging a child in a turn-taking activity. In fact, most pediatric goals are initiated and practiced during playful interactions because "play offers an opportunity to organize intervention episodes that engage children and facilitate practice (Adler 2012)."
Throughout my practice, I have witnessed many children who need to learn how to play. For them, playing did not come innately or by watching others play. Playing is the way friendships are woven in youth. And, every parent wants his or her child to play with other children. Some children do not demonstrate the ability to stack blocks, to talk on a make-believe phone, to feed a baby doll, or to take turns with a peer. Intervention targeting play foundations is an important speech and language goal for these children. Leslie Adler adds, "Playing is one of the primary occupations of children, and when they are playing they are participating in life (Adler, 2012)." Stating the position of the American Academy of Pediatrics, Kenneth Ginsburg says, "Play is essential to development because it contributes to the cognitive, physical, social, and emotional well-being of children and youth (Ginsburg, 2007)." As one can see, the common phrase, "Let's play!" is quite complex when underway.
What is Play?
Play is a process – the outcome is not as important as the process itself.
Play is child-initiated. Activities are created for no other reason than experimentation.
In play, everything and anything can happen: a sheet over a table becomes a castle and the little girl inside the princess. Functions of objects are transformed.
Play becomes an arena for testing rules, both logical and illogical. Rules freely appear and disappear in play.
Play is an activity of the mind. Children may become deeply engrossed in play and find it difficult to stop. (S.C.Hurwitz, 2003)
Free play, play that is child-driven, rambunctious, and unstructured, is the most important kind of play (S.C. Hurwtiz 2003). During free play, children learn new vocabulary and increase auditory comprehension skills. They practice cognitive skills including, problem solving, creativity, and self-regulation. Social skills are demonstrated during play when a child initiates, interacts, and compromises with his or her communicative partner. In addition, strategies to cope with feelings of excitement, fear, anger, and frustration are vented during play. Children are constantly learning and growing during play. "Having control over the course of one's own learning, as in free play, promotes desire, motivation, and mastery (Erikson, 1985)."
Now let's talk about being successful when playing, as success is very important. Without a feeling of success, participation and engagement decrease. Some children may revert to atypical types of play, such as repetitive play and self-stimulating play. For play to remain organic and fun, scaffolding, giving support, is necessary. Scaffolding can take many forms, from altering the environment to encourage play or decreasing distractions to encourage focused attention. Using visual aids to assist in play sequences and modeling language needed for games and playful interactions are also considered scaffolds.
Stages of play:
Exploratory Play (around 6-8 months) – At this stage, children are becoming familiar with objects through observation and exploration. This play is not goal oriented. Children are motivated to understand more about the objects in play. Fingering, mouthing, banging, and listening are witnessed at this stage.
Constructive Play (around 12 months) – Here, children manipulate their environment to build things. Toys are used for their intended purpose (building with blocks, drawing with markers, digging in sand, brushing a doll's hair). Constructive play develops imagination, problem-solving skills, fine motor skills, and self esteem(R. Owens 2011).
Symbolic Play (around 18 months)–Children use objects to represent other objects in play. They may use a block as a train or a plastic banana as a telephone.
Rules and Games (school aged) – Children impose rules and roles during play at this stage. Self-regulation, cooperation, and flexibility are needed (Frost 2004). Here, children are seen role-playing life scenarios, making rules to pretend games, and playing games with set rules.
In today's world of after-school schedules and modern technology, children seem to be playing less and less. Technology, screen time, has replaced time spent playing alone, with a friend, or with a sibling. In addition, free play in school is sneakily being redefined as choice time or center time in an effort to keep classrooms calm with engaged students. School districts are reducing recess time and creative arts time to focus on mathematics and reading (Dillon, 2006). Pediatricians want children playing more; they want children interacting with peers and increasing their fun, rambunctious, free-play (Ginsburg 2007). Right now, you may be asking, "How can I increase free play in the home?"
Here's how…Be silly, get creative, and have fun with your kids. Schedule times in the day where children are expected to play alone for short intervals, younger children may require scaffolding and very short intervals to be successful at independent play. It is OK for children to state they are "bored." Sometimes when children are "bored" they are really thinking, problem solving, and reflecting on life events. And mostly, play should not be work. The point of play is that is has no point.
Play Temptations by Stage:
Exploratory play – Schedule times in the day where you can sit, eye-level and face to face, with your child and explore toys. Seek out objects that make noise, have cause and effect, and are brightly colored. Model language and exploration during play.
Constructive play – Sensory bins (i.e. sand, water, rice) are great for this level of play. Model pouring, shoveling, burying, and stirring. Watch your child to see what interests her/him, model language and expand on his/her verbalizations.
Symbolic play – Promote pretend play activities by setting up an environment of play, such as a barber-shop, a doctor's clinic, or a pizza parlor. Help your child make symbolic items to be used in play. For example, a pizza oven can be made from an used gift box; play dough can pizza dough.
Rules and Games – Research shows that visual aids help children create imaginary play and promote language (Adler 2012). Make imaginary play bins: bins filled with scarves, eyeglasses, and silly slippers. Place a large mirror in the play space, children love watch themselves acting silly. Have a box of old-school board games available: chutes and ladders, operation, connect four, Hi-Ho Cherrio, etc.
Resources
Adler, L. "Linking Play to Function: Utilizing NDT and SI Strategies to Facilitate Functional Skills Through Play." Education Resources. 2012 p.1-10.
Dillon S. Schools cut back subjects to push reading and math. New York Times. March 26, 2006;1:1.
Erickson, R. J. (1985). Play contributes to the full emotional development of the child. Education, 105(3), 261-263.
Frost, Joe L., Pei-San Brown, John A. Sutterby, Candra D. Thornton. The Developmental Benefits of Playgrounds. Olney, MD: Association for Childhood Education International, 2004. p. 25.
Ginsburg, Kenneth. The Importance of Play in Promoting Healthy Childhood Development and Maintaining Strong Parent-Child Bonds, Pediatrics.2007, 199:182-191.
Hurwitz Sally C. To be successful: let them play! Child Educ. 2002/ 2003;79:101–102.
Metrocom International (Producer) for Michigan Television. (2007). Where do the children play? [DVD]. Ann Arbor: Regents of the University of Michigan.
Owens, Robert. Language Development: An Introduction. Allyn and Bacon, 2001. Print.
*Why Do Children Play?" Mesa Community College. The Developmental Psychology Student NetLetter. http://www.mesacc.edu/dept/d46/psy/dev/Spring98/earchild/index.html > 27 Aug. 2010.