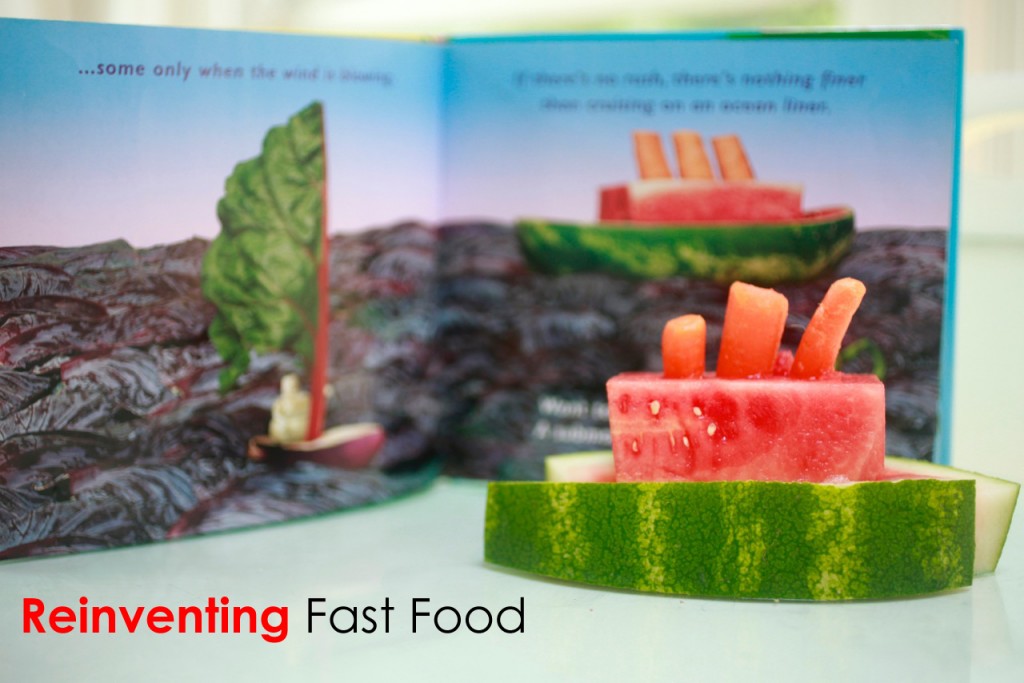 Boy do I love a fun book about food designed for kids!
If you haven't checked out Fast Food by Saxton Freymann and Joost Elffers, definitely add it to your list. This book tells a whimsical story about transportation and it's illustrated with food art like you've never seen before. If you are Happy Eating Club parent you already know why I really love opportunities for parents and kids to talk about food away from mealtimes. This book is a wonderful way to open up dialogue and have a little fun while you do!
My boys and I read this book several times.  My oldest son was pretty excited about the food and giggled at almost every page. You don't normally look at a piece of swiss chard and think "wind surfing," so this book did a wonderful job of transforming the way we think about foods in a really fun way for kids. As expected, my son asked if we could make some pictures ourselves and of course I was on board. I told my son to choose a photo from the book that he wanted to re-create. He chose an ocean liner. Next, I cut out the shapes that he needed and let him start building.  To his delight, he got pretty close to the photo in the book and then enjoyed gobbling that ocean liner down with his little brother.
You can find your own copy of Fast Food at your local library or you can find other photos of fun food to re-create with your kids on my Chew Chew Mama "Fun Food" Pinterest boards.
Happy, Healthy Eating!