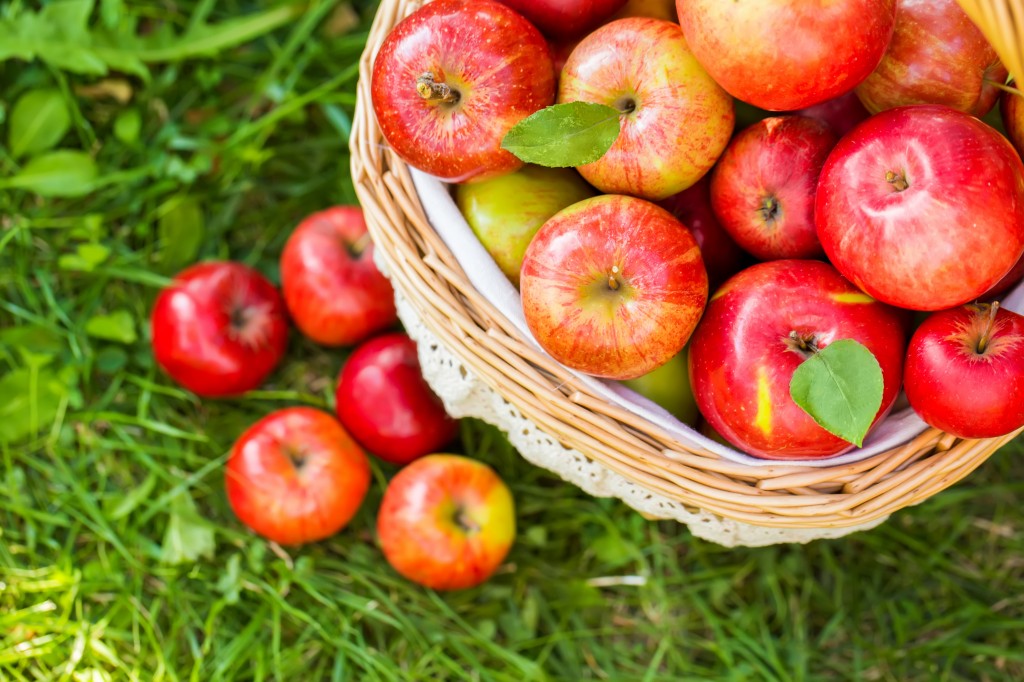 Autumn is gently falling upon us and with it are many fun opportunities for positive food experiences for your kids.  The very best and positive food exposures always happen away from your kitchen when the rules of the table and the pressure to eat are eliminated.  Children really open up to food in a whole new and unguarded way when they are given the gift of learning that food doesn't come from a grocery store shelf, but from an actual orchard or farm. Once you experience their excitement in picking and eating their own apples off a tree, you'll realize that this outing is a gift to you and your mealtimes as well!
Growing up my family took annual trips every autumn to the apple orchards near my childhood home in New York.  I can still remember how it felt to take part in this family tradition.  To my childhood eyes, it seemed magical to see an apple while it was still on the tree.  They were perfect little, red packages of sweetness and getting to pick them felt like a gift.  It was always such a treat to get a lift or to climb to get the very best apples from the top.  I didn't realize it then, but I was building more than family memories.  I was building positive food exposures and a love for healthy food at the same time.
Today, I have the pleasure of passing this tradition on to my own children and I get to watch them build their own positive experiences with food.  And you know what, my children tell me that "apples picked off a tree taste the most delicious!"  Imagine that.  So if you plan to hit the orchards, expect to come home with memories worth smiling over for a lifetime, happy kids, positive food exposures that you can use to your advantage and a ton of sweet, shiny apples.
Not sure what to do with a basket (or two) of apples?  Try our favorite pink apple sauce recipe here, baked apple crisps here or be wise like our Happy Eating Club members and combine some with veggies like in the Weelicious green apple juice here or to salad "ribbons" here.
And sure…make an apple pie too!
Happy, Healthy, Eating!