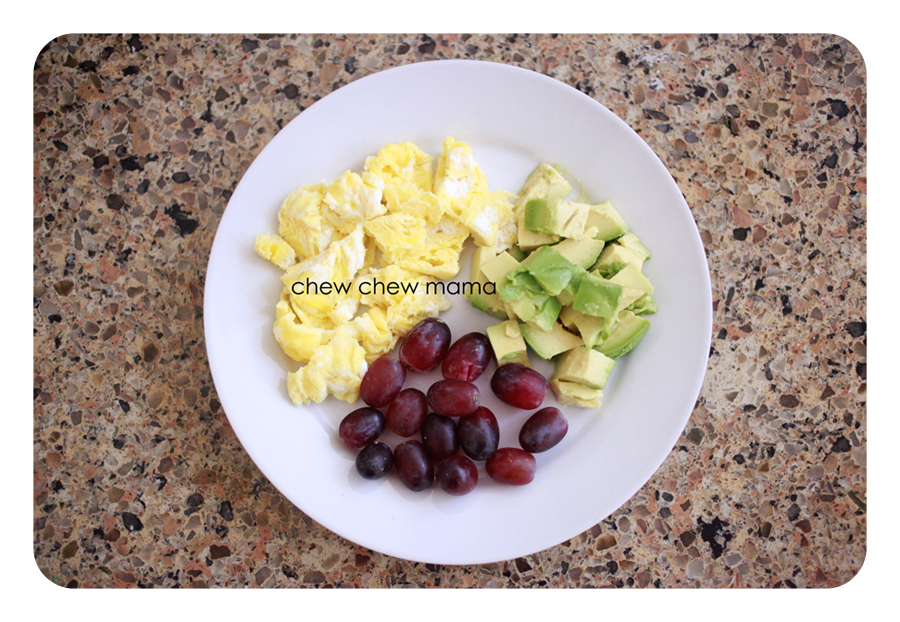 Cindy Hooks Morrison, M.S., CCC-SLP, CLC
I love starting my kids off with a great breakfast to set them up for a successful day of learning, but just like other families, some mornings are busier than others and it's just not realistic to spend a lot of time at the stove.  A long time ago, I read about teacup eggs and I immediately knew they were the answer for these fast paced mornings.  I love making my own, easier version of them as a staple for our family to save time without sacrificing healthy food choices!
So busy mamas out there…back away from the breakfast cereals and pop tarts that are loaded with sugar and lacking protein and I promise that you can still make a delicious and healthy meal alternative in less than five minutes. Better yet, supervise your kids and let them have fun creating their own breakfast creation in the morning!
Here's a step-by-step tutorial to Chew Chew Mama's Easy, Breezy Ramekin Eggs.
Step One
Crack an egg into each ramekin (Kitchen Tip: Don't have a ramekin, no problem!  You can use a coffee cup to do this too!)
Step Two
Use a fork or whisk to beat the egg and then start adding your favorite extras for more flavor. On quick mornings, a sprinkle of garlic powder, chives and parmesean cheese are crowd pleasers at the house of Chew Chew Mama.  However on other mornings, our 4-year-old, enjoys tossing in diced ham, diced tomatoes, cheddar cheese, minced onions, crumbled sausage or even left over veggies from dinner the night before to turn these tiny ramekins into mini egg souffles!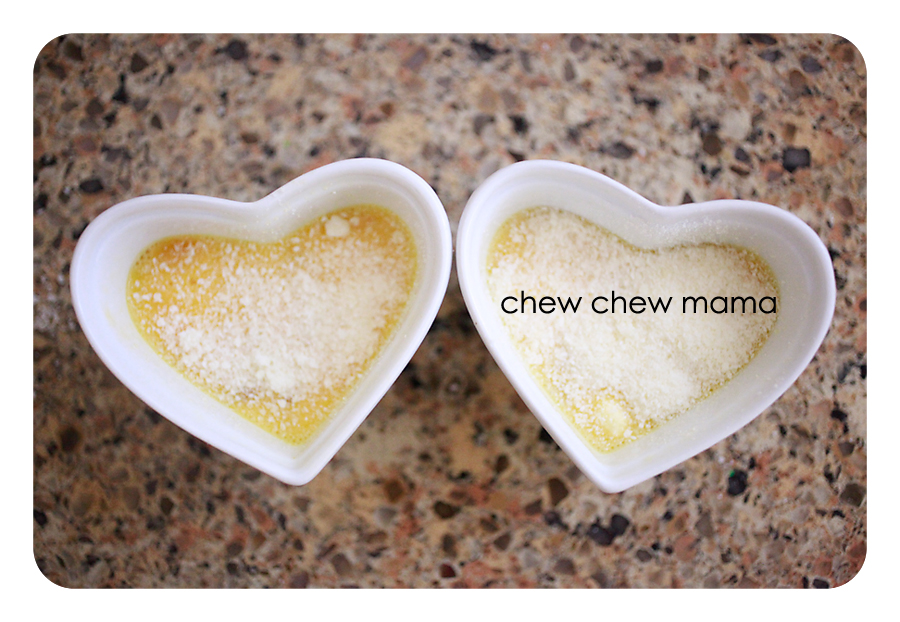 Step Three
Next place them in the microwave one at a time.  I like to microwave each ramekin for 30 seconds and then flip the egg over and place it back in the microwave for another 30 seconds. The rate at which the egg cooks can vary by microwave, so use your best judgement on this one, watch your egg and stick to smaller time increments.  Using our microwave, a total of one minute of cooking does the trick and the eggs come out looking like the photo below.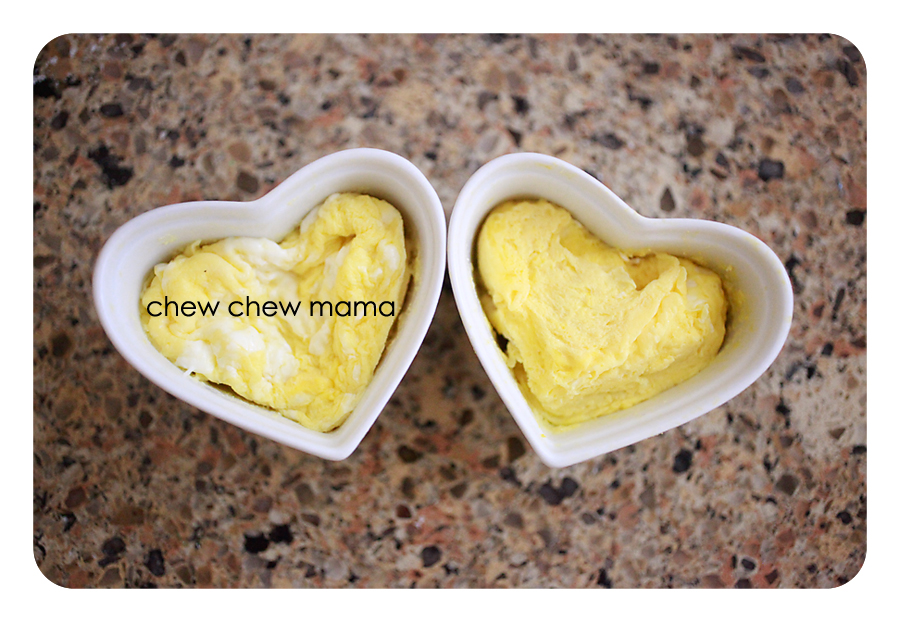 I like to pop them out of the ramekins and cut them into smaller, easy to chew pieces for my sweet ones!  Add some quick sides and there you have it.  A healthy breakfast made in under five minutes with minimal kitchen clean up.
Happy, Healthy Eating!