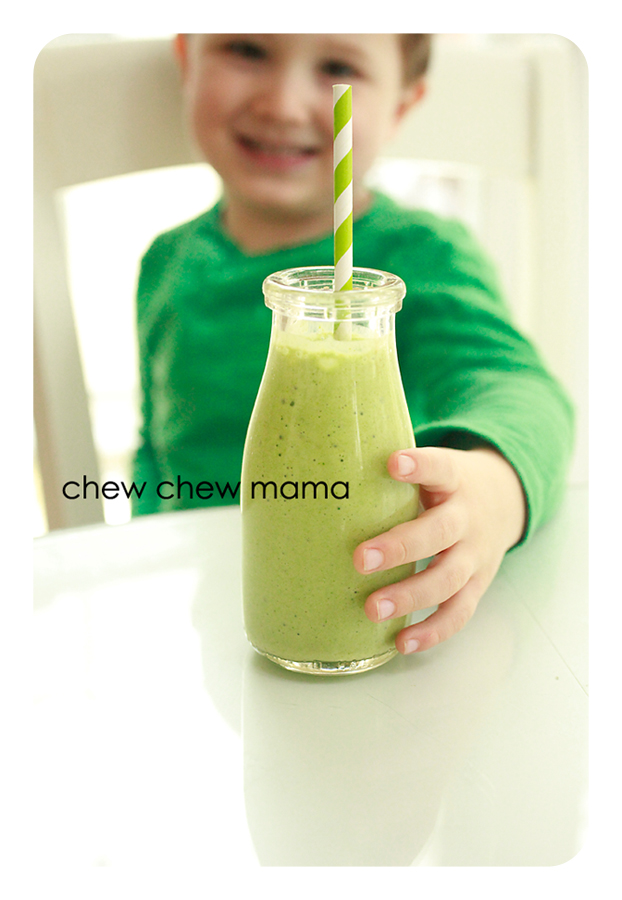 Cindy Hooks Morrison, M.S., CCC-SLP, CLC
Does your child turn their nose up to the green choices on their plate?
St. Patrick's Day is a wonderful day to incorporate more green choices and make green foods more fun!  Celebrate the day in style not only by wearing green, but by eating green too!  Better yet, host a green food "tasting" party.
I've always enjoyed celebrating St. Patrick's Day.  Growing up, my mother hosted parties each year with lots of corn beef, cabbage, boiled potatoes and irish soda bread. She would elicit my help to make green creations to hang all over the house.  I remember being most proud of my homemade, construction paper shamrock place mats!  It's fun to watch my own son create such treasures for my home now.  It's also fun to watch my kids enjoy green foods!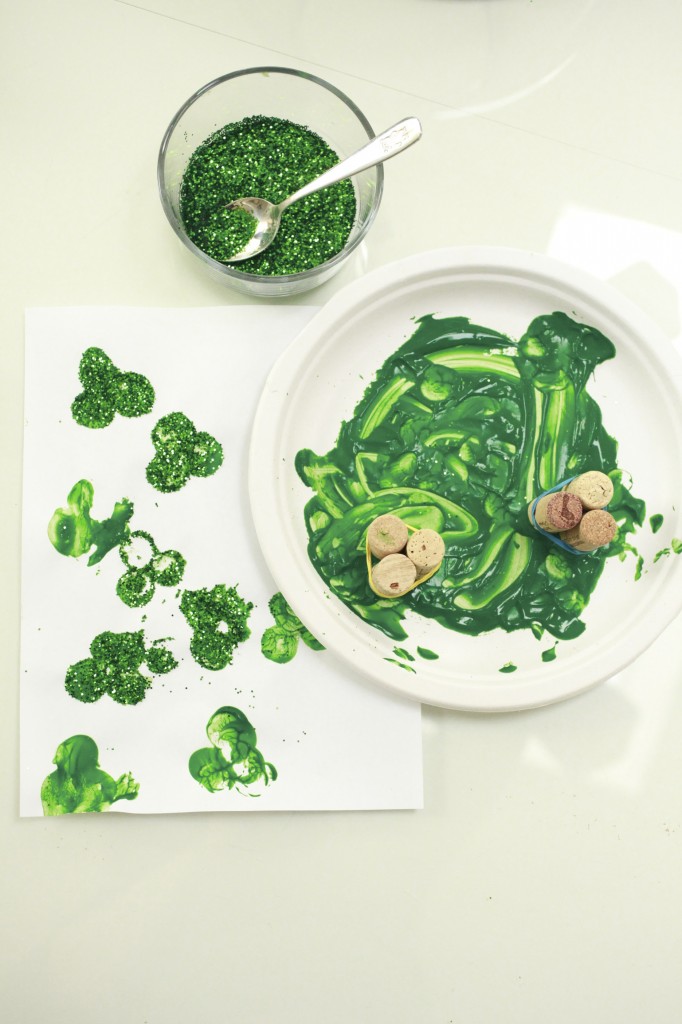 This year our family hosted a green food "tasting" play date and enjoyed playing, making green crafts and putting out a bunch of green foods for our guests to talk about, explore and taste!  The kids had a fun time guessing what each food might taste like and were surprised when they were tricked with sweet pickles instead of sour ones!  They enjoyed creating monster faces with their green foods, using their spoons to paint their foods with dips and loved competing to see who could make the loudest crunch with their mini cucumbers!  (And let me just tell you, it was way to close to tell…so we needed many crunches to decide!)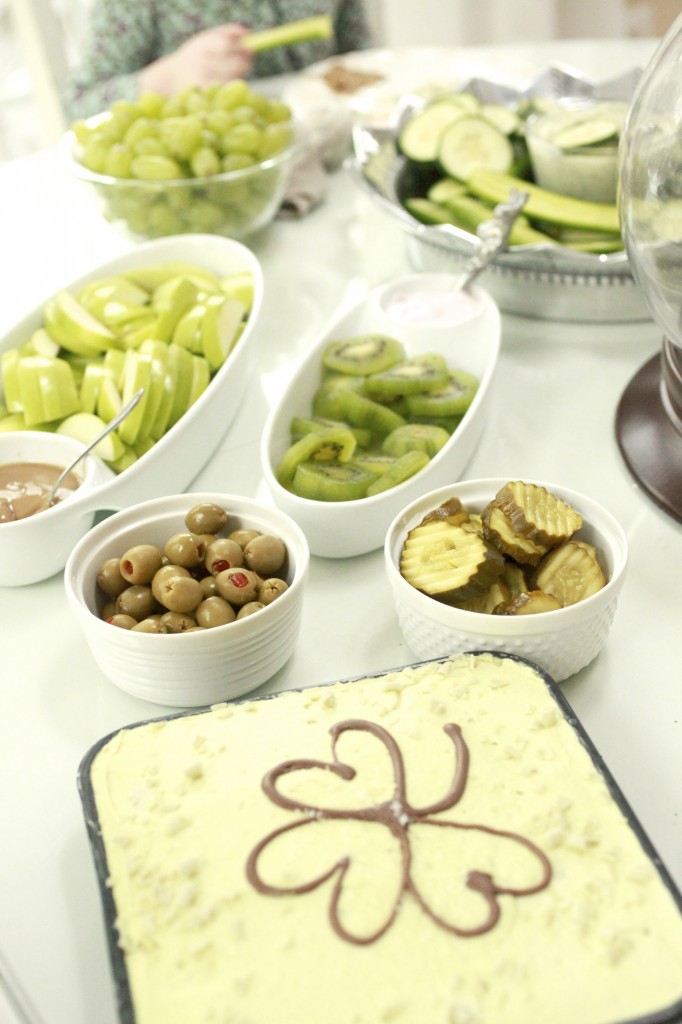 Some of the kids were more cautious observers and not ready to completely dive into the foods, but they did follow the example of the kids that interacted with the food as brave enthusiasts.  Still some of the children only wanted to eat food familiar to them, feeling comfortable to touch the other foods and taste them by "taking a lick" instead of chewing.
Everyone's unique experience was encouraged and accepted.  The whole purpose of the "tasting party" wasn't to force the kids to eat bowls full of green foods.  It's purpose was to create a fun, positive exposure to green foods and that's exactly what happened. A really fun day for all!
You don't have to wait for St. Patrick's Day to host a Color Tasting Party!  You can host one in any color, any time throughout the year.  Decide your tasting color, invite your guests and tell them what color to wear!  Your guests will enjoy being a part of the fun and bringing their own favorite, specified-color foods to share.
Hosting a tasting party not only creates positive interactions with food, but it also eliminates the stress and pressure that these foods might elicit during mealtimes.  Tasting parties are a great way to introduce new food choices gradually and slowly.  Introducing new foods without pressure to eat them associates a positive association, so that subsequent exposures to the food are more easily accepted.  Learn more about how to use snack times to introduce new foods by clicking here.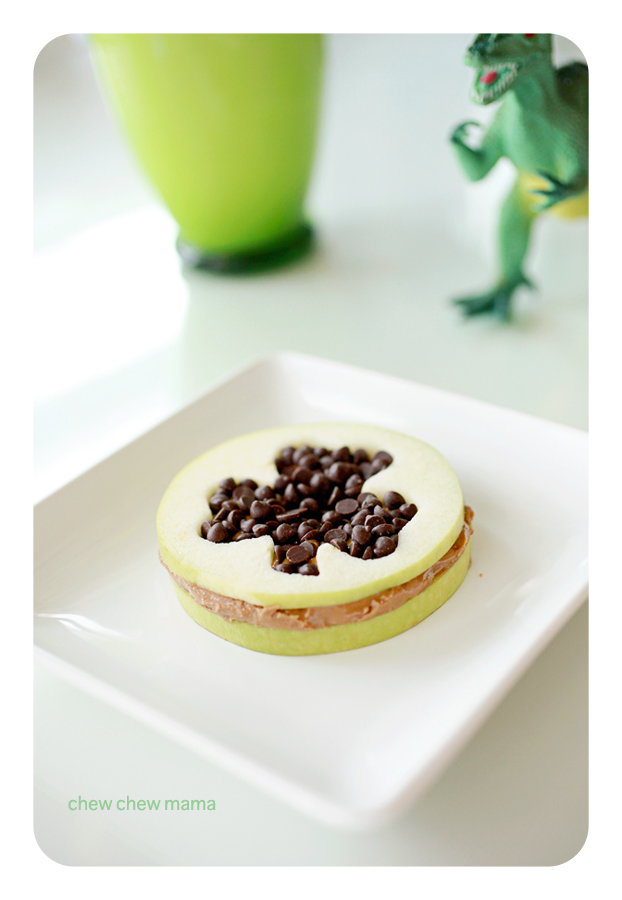 Green Food List Ideas
Green Vegetables
Peppers
Celery
Cucumber
Asparagus
Avocado
Broccoli
Green Beans
Spinach
Lettuce
Olives
Peas
Pickles
Sugar Snap Peas
Zucchini
Green Fruit
Granny Smith Apples
Kiwi
Limes
Honeydew Melon
Green Grapes
Other Green Choices
Pea or Broccoli Soup
Pesto
Spinach Wraps
Spinach Pasta
Green Veggie Chips
Guacomole
Mint Chocolate Chip Ice Cream
Steam Spinach To Create Natural Green Food Coloring for coloring milk, yogurt and whipped cream or better yet, use one of the recipes below to make a delicious green smoothie!
Chew Chew Mama's Favorite Green Smoothies (pictured above)
1 cup of milk (regular or coconut milk)
1 banana
1/2 of spinach
OR
1 cup of milk
1/2 cup of pinapple
1/2 cup of kale
Happy, Healthy Eating!