It's that time of year again!
Valentine's Day is on the horizon and heart-shaped candies are filling up the store shelves already, can you believe it?
Recently my sweet little boy asked me, "Which holiday is next, mommy?"
He was utterly disappointed when I sang, "Valentines Day!"  Instead of smiling his big smile and overflowing with excitement over the sweet valentine crafting we can look forward to (like I was), he showed all signs of being a sweet, awesome, little boy and cringed.  No, not because the presence of unsafe candy will increase exponentially in the world around him, but because "Valentines day is a girl holiday, Mommy."
It made me laugh out loud. I love my son! His reply got me very excited about the fun ahead for us in the month of February.  Now that he's a bit older, I can't wait to share the story of St. Valentine and watch him grow in understanding of the true meaning St. Valentine's Day and what these Valentines (notes) that we give to each other really memorialize.  Hint: It has to do with that crocus photo that I used up above.  Leave me a comment or a "note" if you know why I chose that image for this post.
I know that once my sweet son realizes there is much more to St. Valentine Day than mere "girl stuff", he will be excited once again about making valentines for our friends and family.  As always, we love being creative and staying allergy safe by choosing candy-free, valentines.  Check out our 2013 list of candy-free valentines here and our 2012 list of candy-free valentines here.  With over 30 adorable choices collected over the past three years, you are bound to find the perfect choice for your family this year!  Be sure to send me photos of your child's creations to share on the blog or to let me know which one's you've chosen.  I love hearing from you!
These are Chew Chew Mama's Top Ten Candy Free Valentines for 2014!
Don't you just love this adorable zoo animal valentine from Blue Robin Cottage?  So, so cute!  Wouldn't your heart just sing if your child got something this safe and cute?  I can already see my sweet, little cub making this guy march across the floor to munch on imaginary leaves.  Often you can find animal packs at the dollar store, so this can be cheap, easy and fun!
Blow me a kiss, Valentine!  These are absolutely adorable and so fun!  It's so fun to make noise!  My little one would love this.  My only allergy note, is that sharing these would be a big no because of cross contamination risk, but from the perspective of a non-allergy mom…no one wants their kids sharing spit any way, so these are go!  Click the photo to link on over to atsecondstreetblogspot!
Paper Airplanes!
These are Chew Chew Daddy's #1  pick!  I found two versions that I love.  The second is a quick and easy print out (they don't fly as far), but they are both awesome.  Click on the photos to link to the awesome bloggers at nobiggie.net and mom.me who created these.
LEGO Star Wars Valentines with free printables from the stitchcraftcreations blog!
Glow sticks, LEGOs…need I really say more?
Totally fun and you can find the glow sticks in the Target dollar bin!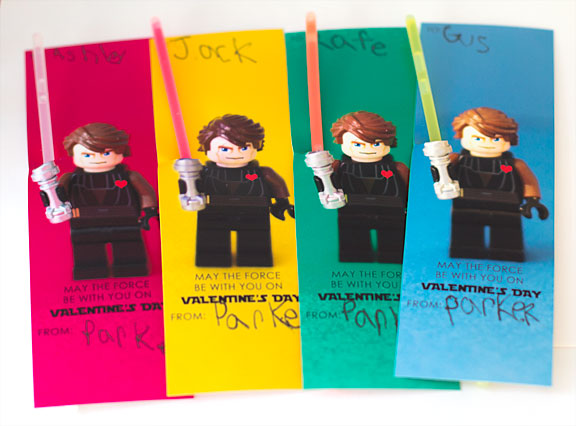 Looming Valentines!  
Check out these looming Valentines from 30 Handmade Days. I am just not sure which ones my niece and nephews will choose, but i'm guessing that this one is in the running!  Get your kids busy looming now (you're welcome), so they are ready for the big day.
Dinosaur Valentines!
After all, RAWR means I love you, right?
Find this adorable free printable over at SweetCDesigns.
Frogs!  
Another adorable valentine and the frogs are another dollar store find.  I can already see these frogs being launched hopping all over our home.  So fun!  Have a little girl that likes to hop? Print these out on pink or purple paper to make them more girly.  I couldn't find the link up to these — if you know who made these cuties, please let me know so I can link up!
My heart BEEPS for YOU! (i'm dying over here with all of this cuteness overload!)
Keep it simple with a cute robot printable and call it a day!  This is so sweet that it makes my heart skip a beep!  You can find this free robot printable over on Flickr.
Feeling crafty?  Have time to make large batches of play dough?  Fear not, I don't have time to make play dough in bulk either, but I LOVE the sweet idea.  Play Doh brand makes miniature sized play doh packages in Valentine's colors to re-create this exact thing.  You can find the ready made Play Doh here.
Healthy FRUIT!  (I can hear some of your eyes rolling…keep reading!)
The kids might not appreciate these as much as the parents might, but I love these cute and washable valentines!  A washable valentine makes this a safe bet for our little man…and a peel…when I see that extra layer of food protection (from risk of cross contamination), I completely geek out and get all excited.  Rubber bands and sweet, sweet words!  Bring it!  I can see this making our sons lunch bags when they get a little older!
"Love Juice"
Here is an adorable idea from tatertots and jello blog.  Attached to the bottle of water is a packet of Hawaiian Punch that turns clear water into a red, love juice.  If you go to the blog,Kalleen's been completely generous with free printables and tells you where to get the Hawaiian Punch packets to magically turn this water into red juice.  The idea is awesome.  My son loves color mixing, but he's four…and I can't bare to give him Hawaiian Punch yet.  I know. I'm Lame.  But the idea is still really awesome and I can see older kids loving the fun in this!
Until he's a little older, I think we will totally make some "love juice" at home, but use a natural red cherry juice to change the water from clear to pink or reddish.  My son is going to love doing the pouring!  He loves being my kitchen helper!
Valentine, you rock!
So do you, Goexplorenature.com!  One of my favorites, because it's something my son can really make!  Collect the best rocks, draw a heart on them with a sharpie and have your kids color or paint it in.  A fun way to be creative and boost those fine motor skills all at the same time!
Blooming Cupcake Liners!
How cute is this!  Find some yellow cup cake liners and make a crocus to give someone a real St. Valentine treat!
Photo Valentines!
Grab your camera, secure a few construction paper hearts to your wall with painters tape and have a photo shoot!
Print the images out, write you sweet note on the back and your done!  I love this sweet idea from
deliacreates
.
And as always, have a Safe and Happy Valentine's Day!  XOXO!