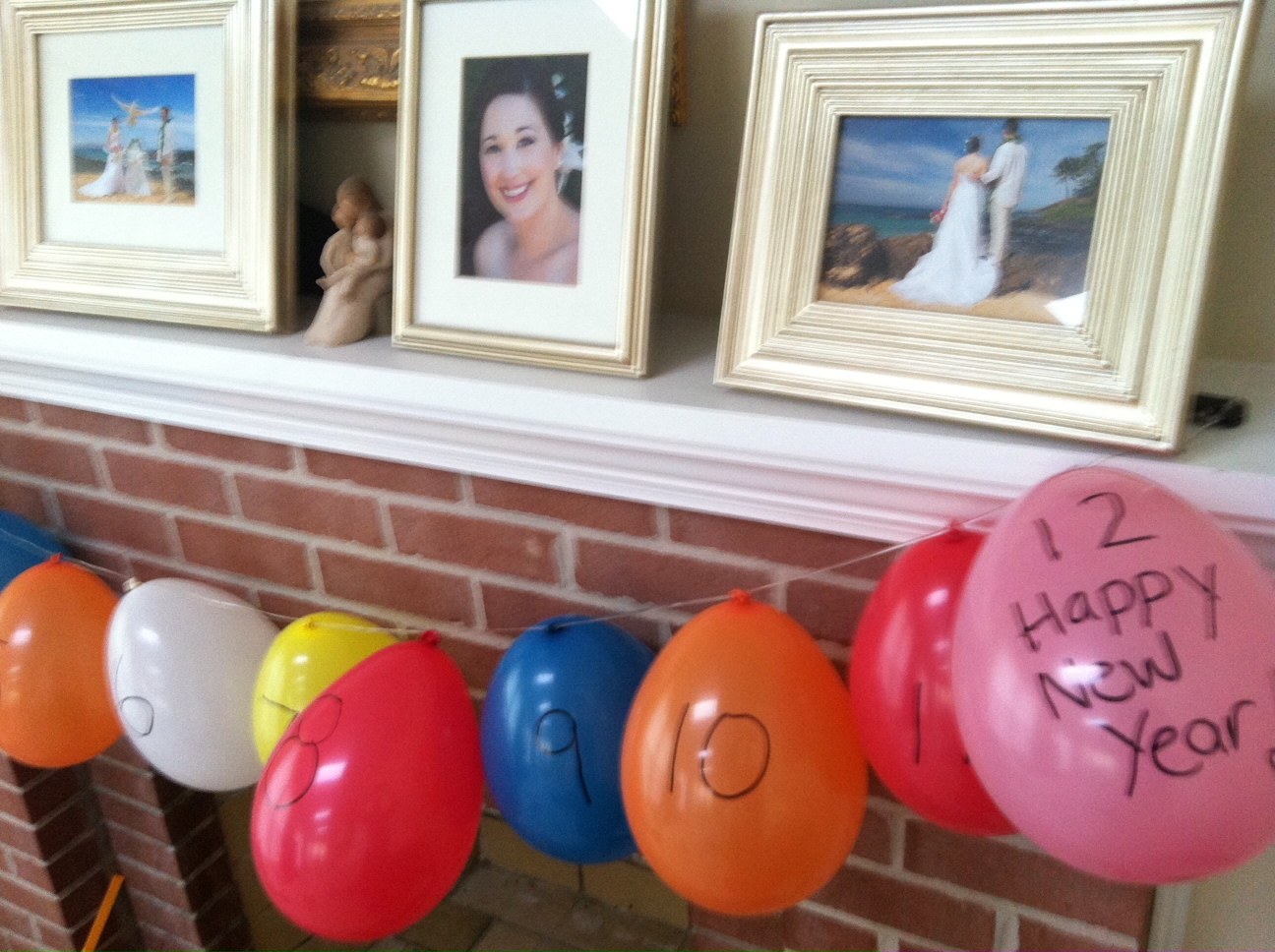 Hello and Happy New Year!
I am so incredibly grateful to everyone following the blog and am amazed at how many people we've reached this year.  It makes my heart smile, so I want to thank each of you for your part in making my year so awesome and wish you all a wonderful NEW YEAR! Thank you, thank you for reaching out with questions and for spreading awareness about speech, language, pediatric feeding and of course the topic that our family was thrown into and tackles with a positive attitude every day – food allergies!
I am beyond excited to be given another year to love this sweet little family of mine.  This year we started a few new traditions for our family's New Years Eve and they were so exciting for the Cub that they will most definitely be sticking around.  Understanding the concept of a New Year is a challenging task for little ones, so I got to work figuring out how I could place both a language learning and feeding spin on things.
We started our morning looking through family photos and talking about all the things that we had done over the past year.  Then we talked about some things that we'd like to do with our "New" year.  Once we had finished our photo gazing and New Year planning, both boys, Ben (age 4) and Henry (age 1), giggled watching me blow up and string 12 balloons.  And of course, I blew up one extra balloon for playing volley ball with Ben!
Our New Years Eve excitement started off strong by popping the first balloon in our countdown to the new year at 8 AM! I set our kitchen timer to go off every hour on the hour and each time it went off our son, Ben, was a flurry of excitement who practically vibrated across the floor, "MOMMY, it's time TO POP ANOTHER BALLOON!" And pop them we did!  One by one, each hour, for twelve hours until we reached the Cub's New Year at 8 PM.
Inside each balloon was a slip of paper listing a fun "new" thing to do together.  "What new thing does it say to do now, Mommy?!"
8 AM – Have a silly dance contest!
9 AM – Bear Crawl Races!
10 AM – Game of hide and seek!
11 AM – Read NEW BOOKS!  I have two favorite New Years Eve books for the preschool age.  The first is P. Bear's New Years Eve Party by Owen Paul Lewis.  It's an adorable counting book to help count down to the New Year.  Each hour, new animal guests arrive to P.Bears Party and my little boys love animals so this was a hit!  Click on the book photos below for more details and reviews of each book!
My next favorite book is Shante Keys and the New Year's Peas by Marion Eldridge.  This book has wonderful rhyming text and what I love most about it is that there is a focus on food!  Shante Key's family has a New Years Eve tradition to eat black-eyed peas for good luck in the New Year.  When her Grandmother realizes she forgot to make them, they send Shante out to the neighbors to find some.  What Shante finds instead are all different types of New Years traditions — including different types of foods!
12 PM – Eat lunch in a new place and try a new food!  We ate lunch picnic style on the floor.  Lots of smiles and giggles happened in the new place and it was TOTALLY fun to try NEW foods on NEW years eve.
1 PM – Create NEW galloping paths in the house and oh yes, mommy and baby brother will follow you where ever you lead.  More giggling.
2 PM – Make a new craft!  There  are so many fun ideas on Pinterest.  We didn't make our craft themed to New Years Eve, we just focused on making something "new" to display.
3 PM –  Play Just Dance 2014 with mom.  So I know we already danced up above, but this time we danced with the wii.  What can I say…I we really love Just Dance 2014 and who can really resist dancing with a giant panda bear?  Right?  Not us for sure!
4 PM – Watch a new movie!  This didn't exactly end in an hour, but that is the beauty of this age.  The timer cooperated with the length of the movie.
5 PM-ish – Dinner time.  Eat in a new place and try a new food!  This time we moved dinner into the dining room!
6 PM – Bath time with BUBBLE BLOWING and ocean water! (we used our imagination for the ocean water). Blowing bubbles during bath time is one of my favorite, fun things to do for the boys. What better place to blow soapy bubbles in the air than right over the soapy tub, right?
7 PM – Family room in pajamas for a family dance party. Pandora Toddler Radio.  Lights out.  Pulled out my FAVORITE color light disco ball (which honestly happens several times throughout the year)…and let me just tell you, we most definitely shook and stomped our sillies out, clapped our crazies out and jumped our jiggles out!
8 PM – This part could not have worked out more perfectly!  We watched last year's ball drop in Times Square on You Tube.  It was just over one minute long. Our Cub loved watching the footage of all the different countries that rang in the new year before us and gave us giggles of excitement over it all, "Daddy, look at all the fireworks!" Finally, we counted down excitedly and as loud as we could, "10, 9, 8, 7, 6, 5, 4, 3, 2, 1 – HAPPY NEW YEAR!  Hugs and kisses around the room!
Bringing my family's tradition forward, we bundled up and went out on the deck to bang on pots and pans and yell out to the world, Happy New Year!  The Cub was just elated to be going outside "at night!" and "in my pajamas!"  We made lots of noise and then came back inside for a milk and cookie toast!
The evening ended with a re-read of the "new" book and my sweet little boy exclaiming, "Mommy, I love you, New Years Eve is the BEST DAY EVER!
Lights out by 8:30 PM and our little ones seriously did not miss a thing!  We had a pretty amazing day with them too.
I know there are families whose little ones are extremely flexible and can hang out until the wee hours, but these little Cubs of mine love their sleep and start to unravel and crank out after 8 o'clock (in fact the baby (age 1) doesn't even last that long!).  This years activities were planned as a way to give them the best of both worlds and it was a glowing success.  Seriously, high fives all around!
I've had pretty awesome New Years Eves in my past, including black tie, Mercury Society balls in New York City and watching fireworks explode over my head in St. Marks Square in Venice, Italy…but watching my little boys excitement and holding them close completely tops them all.
I am so excited about all to come this year.  May it be a year filled with good health, family fun and peaceful hearts.
Happy New Year, Friends!