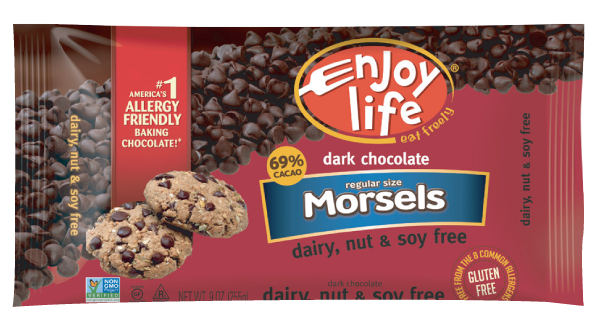 A special delivery from Enjoy Life Foods arrived at the house of Chew Chew Mama!
SAFE. DARK. CHOCOLATE. (can you guess the direction this post is going?!)
We were all instant fans of the new item and as our Cub said, "HOLY MOLY, they are so amazing!" These chocolate chips are not only delicious, but true to the Enjoy Life Brand, they are free of the top allergens and non-gmo certified! We love Enjoy Life!
Chew Chew Daddy used them this weekend to make the Cub homemade, dark chocolate chip waffles and today, the Cub and I used them to make hot cocoa. We both agreed it was a perfect after preschool plan for this cold and blustery afternoon!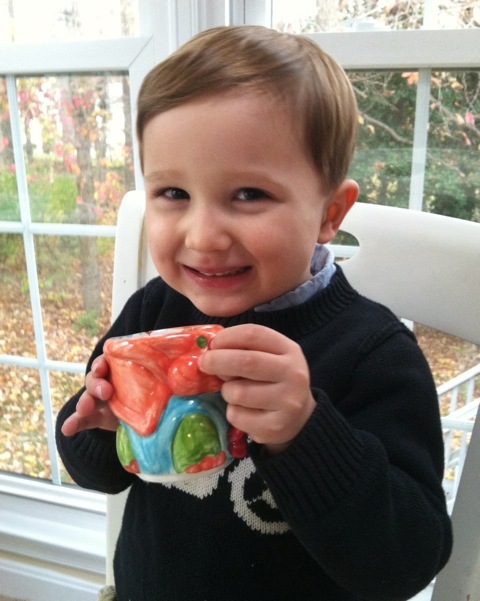 Chew Chew Mama's Hot Chocolate
1 1/4 cup of milk (or milk alternative)
1/2 cup of chocolate chips
1 teaspoon of vanilla
1 teaspoon of sugar
Directions: Add all the ingredients in a pot on the stove and stir continuously over medium high heat until the chocolate chips have melted. Once fully melted and combined into a nice cocoa, turn off the heat and allow it to cool to a luke warm temperature (so tiny mouths do not get burnt). Serve it up in a fun mug (the Cub's mug pictured above was hand painted at our local pottery shop during a visit with his Grammie). Marshmallows and extra chocolate chips optional.  
Have you tried any Enjoy Life Products? Which ones are your favorites?
You can check out all of the products that they offer by clicking here.
Happy, Healthy Eating!