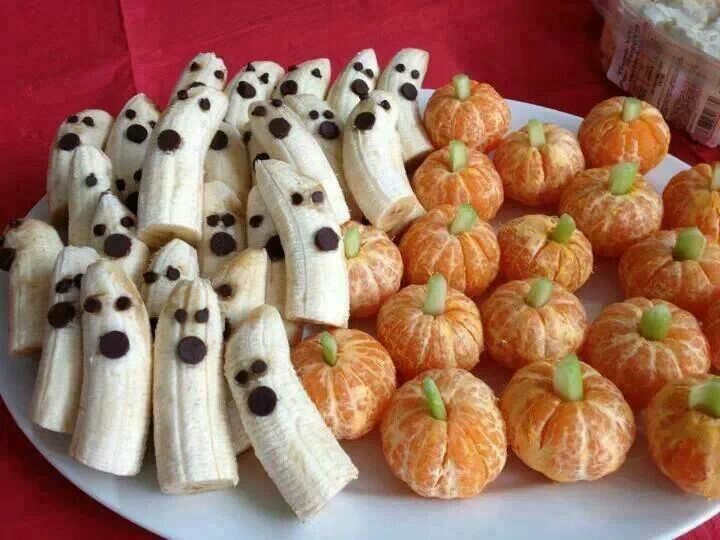 Halloween is awesome!
I love Halloween and up until this year (my son is turning four) it was a significant source of worry and stress for our family due to his food allergy.  This year we are FINALLY more excited and less panicked.  How did we achieve this?  Lots of reading, researching and education on food allergies.  Knowledge is so powerful.  By now we've developed a trick-or-treating plan that works successfully for our family and we focus on Halloween activities more than the candy.
Our son really loves permission to eat safe candy and on Halloween he gets a GIANT green light to enjoy it.  He can't wait to knock on every single door in our neighborhood this year AND its already impossible to get him to take off his Halloween costume.  In fact, if you saw an Itsy Bitsy Spider at the library yesterday…that was us!
You can read more about our Halloween safety plan by clicking here.
I recently got an email with a wonderful question: "What fun, safe things can I send into my daughter's nut-free preschool for Halloween?"
I was so glad to get this question, because so often people think that my son is deprived of fun since a lot of the candy is out, but this is hardly the case!  While there is safe candy for him to enjoy on Halloween, this post is about healthy, Halloween options. I love being creative with food and best of all, I love being able to teach my son that food can be fun and safe all at the same time.
Here are my favorite, healthy, Halloween snack options for this year. You can find each of these fun ideas paired with the link backs (and some additional fun!) on my Autumn Pinterest Pin board by clicking here.
Witches Brooms 
An adorable creation that I saw done over and over again on Pinterest. Pretzels often have a cross contamination risk, so this snack is great as long as the pretzels are a safe brand.
Spider Eggs
Adorable, fun and peanut free.  Not to mention, my son loves hard boiled eggs and olives so this is a thrilling, "spooky" snack for him!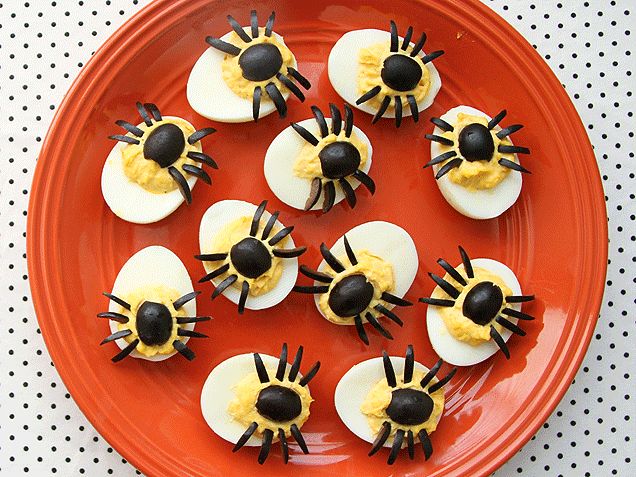 Halloween Kabobs
Melon (or cubed cheese) & Blackberries is such a delicious treat and this looks adorable too.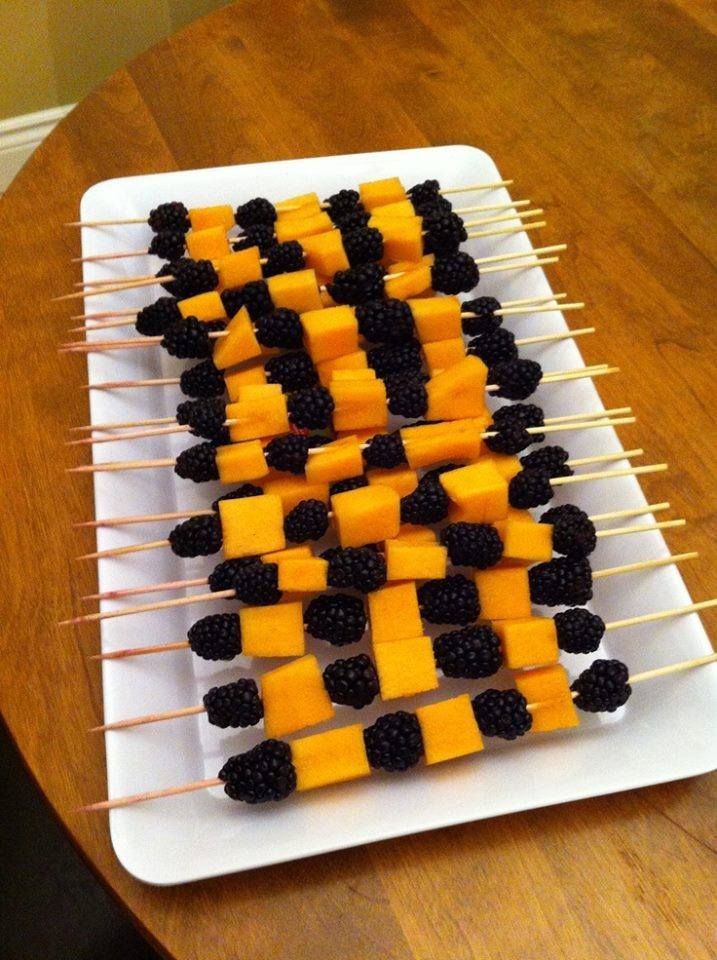 Frank – N – Snacks
Yogurt with green food coloring.  Want to put a healthier spin on it?  Use spinach reserve to color it green.  Sprinkles are an item that is at risk for cross contamination with peanuts and tree nuts.  The sprinkles would need to be a safe brand.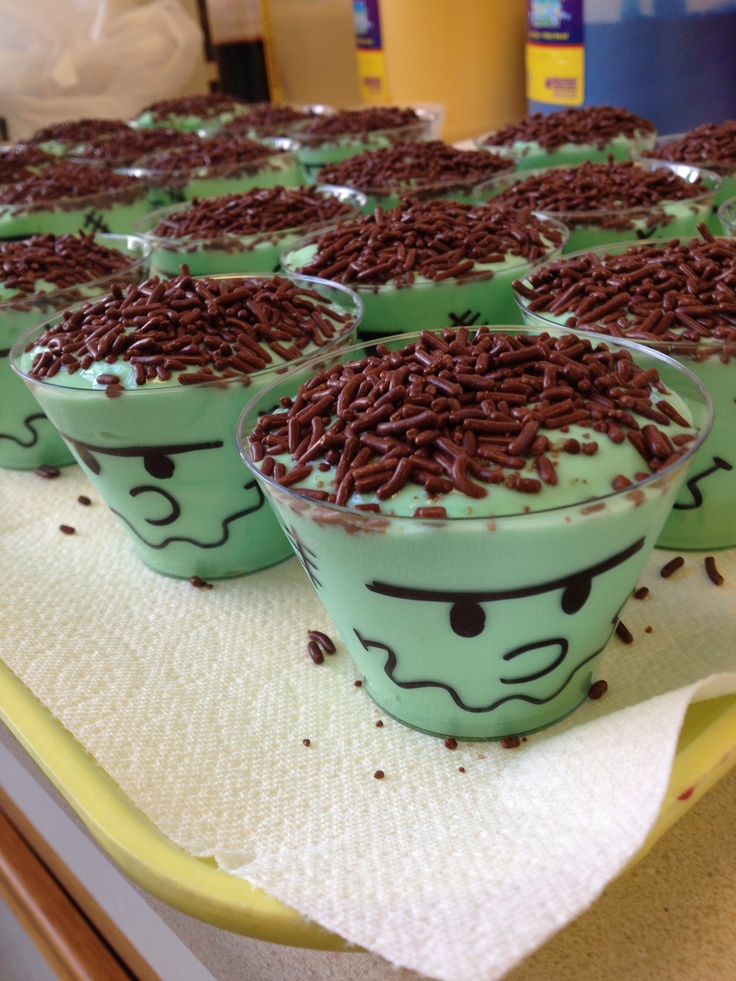 Fruit Cup Jack-O-Lanterns
Quick, easy and cute. Just sharpie those adorable faces on the packaging and you're done!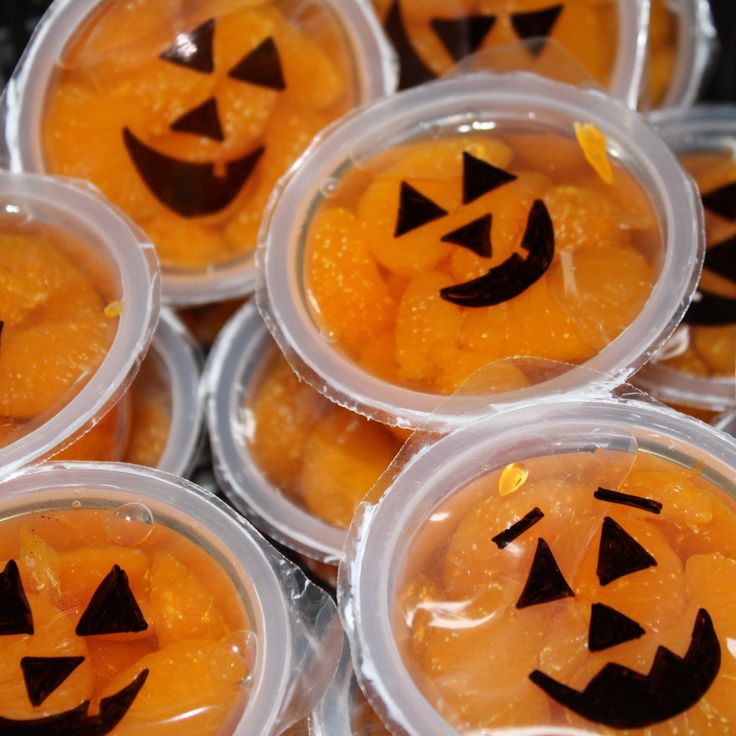 Monster Cups
This look was achieved by filling the cup half way and then placing marshmallows inside. The marshmallows have holes (use a straw to cut them out) and raisins have been placed inside.  Then load more fruit inside.  This website had other options besides fruit that would potentially be unsafe for my kids.  To keep this a safe, nut-free option, I would only stick to fruit.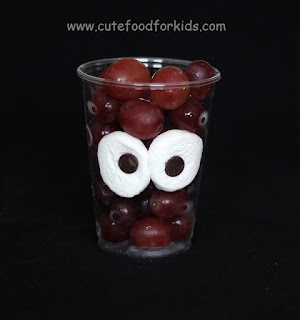 Egg Ghouls
Fun and safe protein.  Another egg option that's super easy.  Hard boil and sharpie on a spooky face!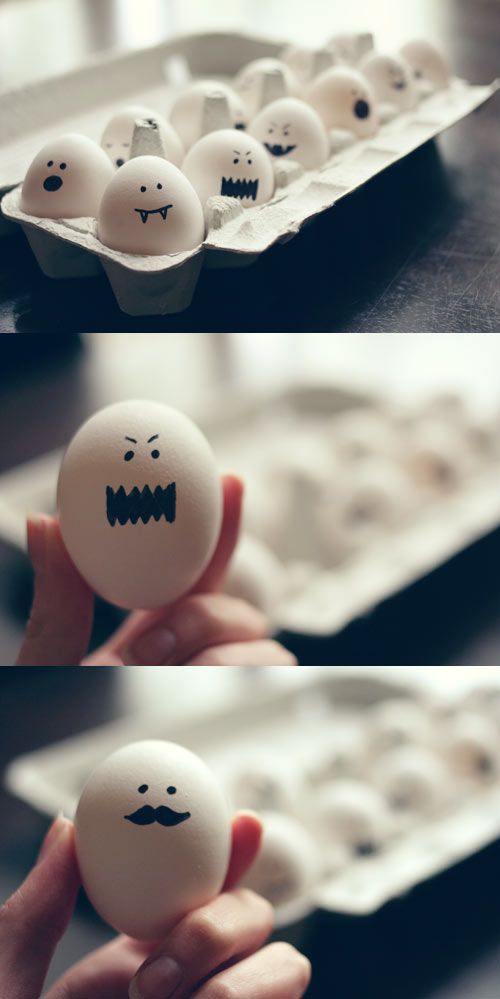 Mummy Pizzas
So cute.  String cheese used to achieve these adorable mini pizzas.  Bread is often a source of cross contamination for us, so to keep this treat peanut safe we need to make sure the bread is from a safe place or make it ourselves.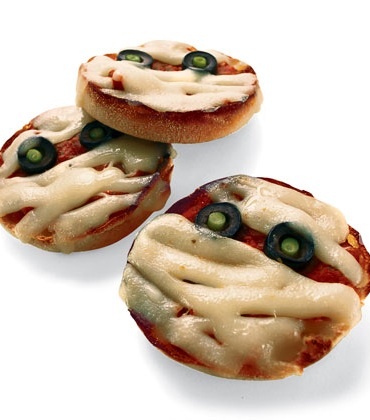 Spooky Spider Web Pizza
How fun is string cheese?!  Another way to shape your snack into Halloween fun.  Olive spider too!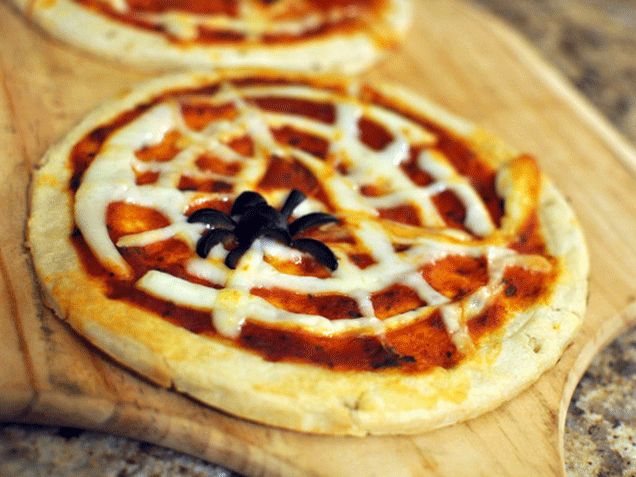 Cheese Cut Outs
Have cookie cutters?  Use them to add shapes to your child's normal snack.  You can use them on safe bread, cheese, fruit, etc…  Fun & easy touch to add to a snack time or lunch bag.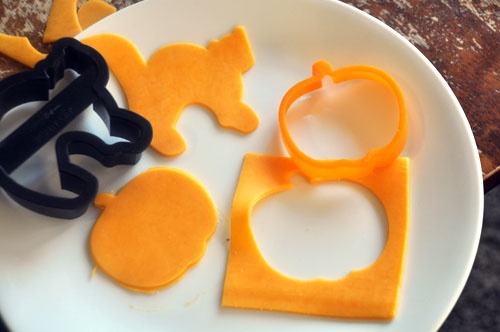 Candy Corn Ice Pops
These ice pops are so awesome!  We made them and we love them.  It's great to have a fun and safe ice pop version of candy corn since the real ones (also pictured) are unsafe candy for us.  While we are able to hunt down and special order safe candy corn, most store bought candy corn brands have a cross contamination risk and are not safe for my kids.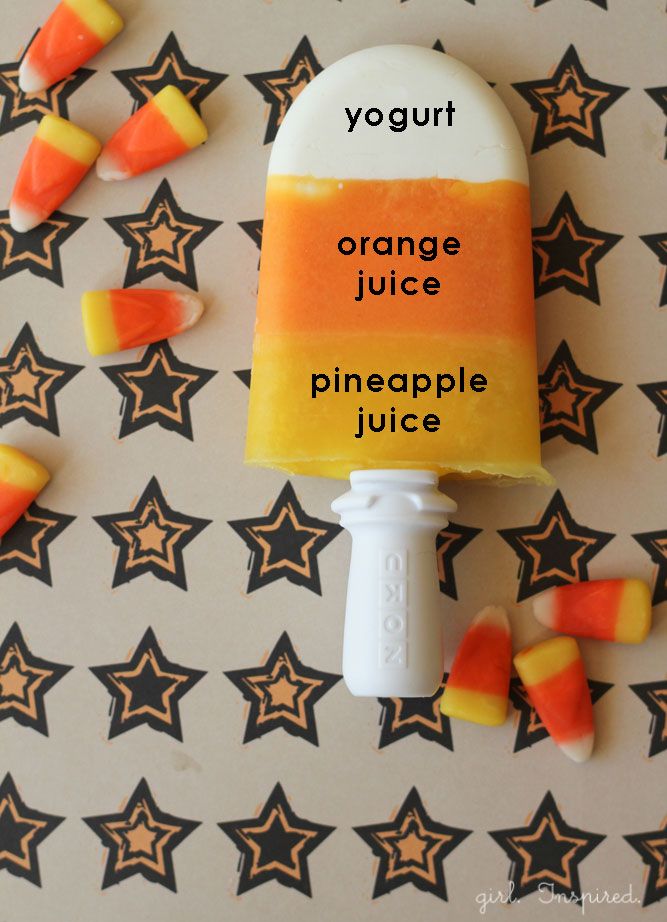 Ghost Pizza
These are so fun to make.  Lot's of BOOO-ing is heard at our table the days we make this fun Halloween version of pizza.  Same bread warning as above (needs to be safe bread).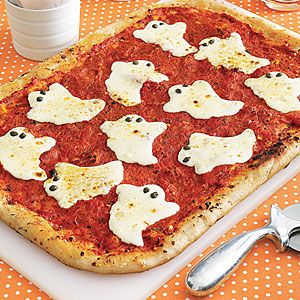 Healthy Candy Corn Veggies & Dip
Absolutely love this!  Love the colors, the mixed textures, the creativity and mostly the fun.  Absolutely making a debut at our home this year.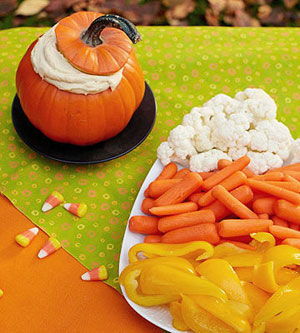 Caldron Carrots
All about presentation.  Regular carrot sticks transform when placed into a little witches caldron.  Not in your budget?  Paint dixie cups or baby food jars black for for the same effect (just be sure to keep littles safe if you are using glass).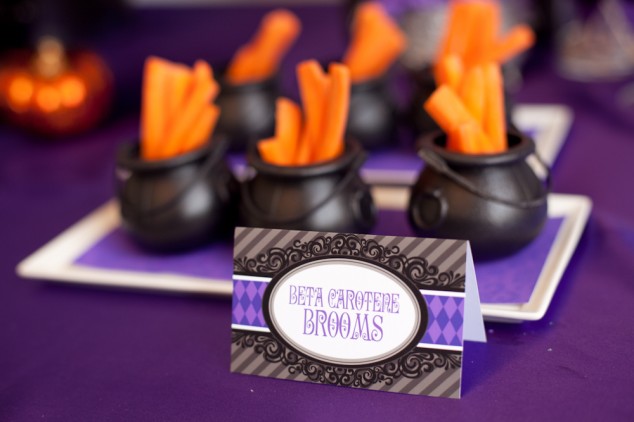 Last but not least….
Mummy Juice Boxes
You will find A LOT of these on Pinterest by multiple bloggers.  AHHH-DORABLE!  (Cub loves them!)
Have a fun and safe snack to share with our readers?  Send it to me to be featured on the Chew Chew Mama blog!
Happy, Healthy Eating!