I am writing this post because I love to read with my sons. Books are a very important tool in teaching.  So its no wonder why I feel compelled to talk about how peanuts play a role in reading for our family.
Each and every week my Cubs and I  go to the library and test the limits of my Vera Bradley bag as we stuff and stretch it to its fullest capacity.  Some weeks we get books on themes we are learning about  home or to pre-teach language about an experience that we have coming up, like a trip to the zoo, the dentist or the beach. While other days we'll just browse the shelves for the to Cub choose the books that stand out to him and catch his interest.
Once we've returned home we immediately head for the comfiest chair and we spend one to two hours reading together.  If you ask my son about the library he will tell you that library days are his most favorite day of the week.  I know the reason is twofold.  My son loves to learn through reading and he also loves time snuggling with his mom and baby brother.
Every so often i'll be reading a part of a book when peanuts will find their way into our learning experience and hijack it.  Yes, hijack.  A seemingly simple story will transform into questions about peanuts and suddenly our focus is off of the book and onto the topic of his food allergy.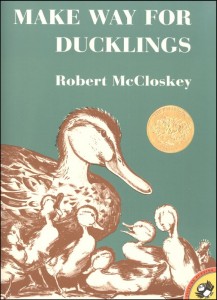 Yesterday we brought home a children's classic and Caldecott award winning book, Make Way For Ducklings by Robert McCloskey.  I have fond memories of the book from my own childhood and when I saw it on the library shelf I immediately remembered the sweet little ducklings marching down a Boston street behind their mama duck. So sweet. What my memory failed to retrieve for me was the same wonderful, little mallards chose their home based upon where they could be safe from turtles and foxes AND where there was a surplus of peanuts being thrown at them to eat.
I'll admit that yesterday I did not allow the peanuts to hijack the sweet story.   Since this isn't a new or unusual circumstance for us, I just replaced the word "peanuts" with "food."  And we sailed smoothly through the story, enjoying the message and pictures as we were intended to.
I don't use this strategy every time that I see the word "peanut" in a children's book.  There are times when I appreciate that its presence in a book is helping to open up a dialogue for us to talk about his allergy and reinforce what we teach at home.  For instance, on another day reading Make Way For Ducklings, I may say that the ducks ate peanuts so that I can knowingly answer the question that my son often has these days: "Why is it safe for them eat peanuts, Mommy?"  
The answer I always give is plan and simple.  Some people and animals can eat peanuts because they don't have a peanut allergy.  BUT, you DO have an allergy and peanuts are very dangerous for you.  Moving on, we would talk about all the other SAFE foods that we would be able to feed those ducks if we met them and that perhaps they might like even better than peanuts.
So you might see my conundrum here.  Peanuts in books can either help or hinder reading with your allergy child or can be skipped past all together, until they are reading themselves of course!  When he gets older I know that we will make a game of it and see how many different words can replace the word "peanut" without changing the whole meaning of the story.  But we have time before we get there.
I've started compiling a list of books that contain the words peanut or peanut butter. We never, ever plan to avoid these books, but it does help me to keep track and to decide ahead of time whether I want to replace the word in the story or use it as a teachable moment.
Have you been surprised when peanuts show up in children's books or games? Send me titles and i'll keep a reference list on the blog.