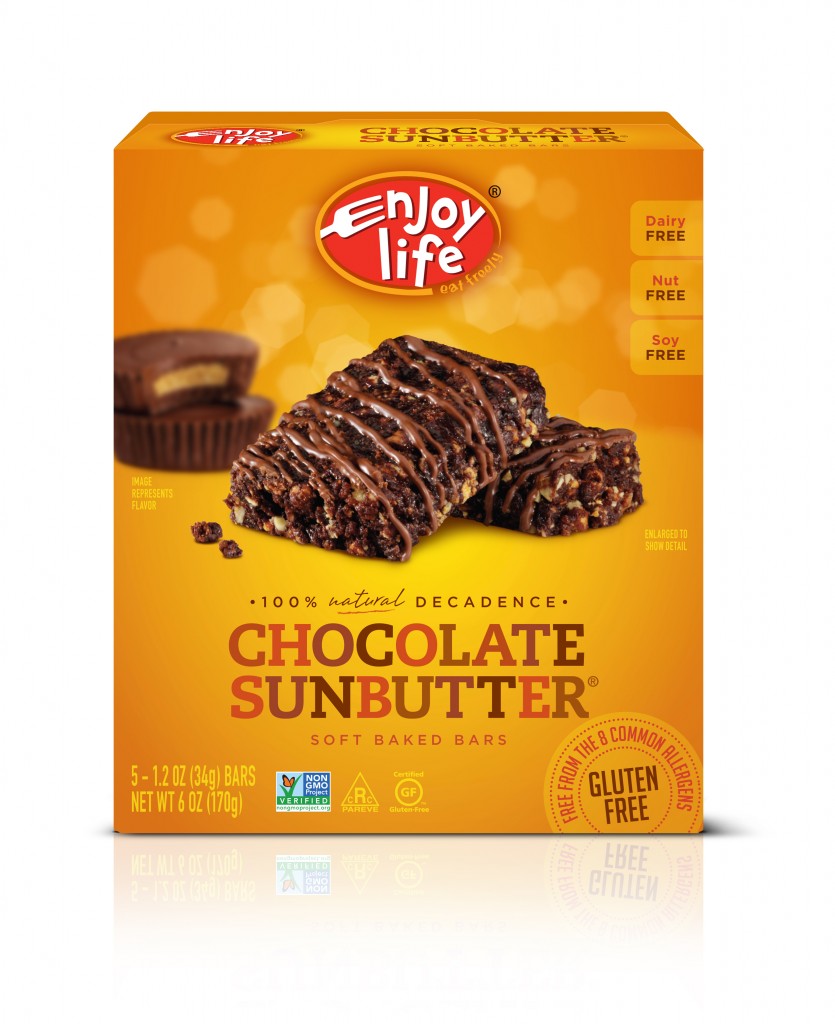 The whole house of Chew Chew Mama got excited yesterday when the "UPS man" dropped off a package straight from Enjoy Life Natural Brands.  Our house is a fan of the company, so when they asked me if i'd like to try and review the Decadent Soft Baked Bars, I very happily, said yes.  
When I see the logo, I know that I can relax and let my child enjoy whatever they've created inside.  For the sake of consistency and to teach my son that manufacturing processes can change, we check the labels as part of our food routine.  The best part of doing this with Enjoy Life products is getting to look at his tiny face peering up at me and say, "Yes, these are safe for you to eat!"  
Enjoy Life is proud to manufacture allergy friendly foods free of wheat, dairy, peanuts, tree nuts, egg, soy, fish and shellfish.  Enjoy Life is also certified member of the Non-GMO Project meaning that all of their ingredient choices are free from genetically modified ingredients.
We have continually been pleased with Enjoy Life products and have no problem admitting freely that we are pretty much addicted to their "fancy" chocolate chips created with only pure ingredients; no fillers or synthetic additives.  An absolute staple in our home for cookies, cupcakes, pancakes and for melting to use for lollipop molds and to cover pretzels!  Once you've tried them, there is no way you can go back to the other alternatives on the shelf.  The day that I discovered they were stocking them on the shelves at Target was an exciting day in the life of this allergy baking mama!
So after dinner last night, our family opened one of each flavor of the Decadent Soft Baked Bars and passed bites around.  The Decadent Bars are best described as a cross between a granola bar and a Lara Bar.  Since both of those items are unsafe for us due to peanuts/peanut products or risk of cross contamination we are happy to have a safe alternative available to us now.  
Everyone enjoyed this "tasting party" so much and each of us voted for our favorite flavor. Chocolate Sunbutter Decadence Bar was my absolute favorite.  Our sweet little Cub voted for the two options that offer white chocolate drizzle, Cherry Cobbler and Cinnamon Bun.  Last but certainly not least, Chew Chew Daddy loved the S'mores.  So though we were divided in taste preference, there was most definitely a flavor just right for all of us.
I was thrilled to slide two bars into my bag on the way out the door for a Children's Play this afternoon!
If you decide to try them out for yourself, please enjoy a Chew Chew Mama special of 10% off your first purchase of Decadent Bars ordered at the Enjoy Life online store here.  
Just enter code DECBLOG10 at checkout.
Happy, Healthy Eating!