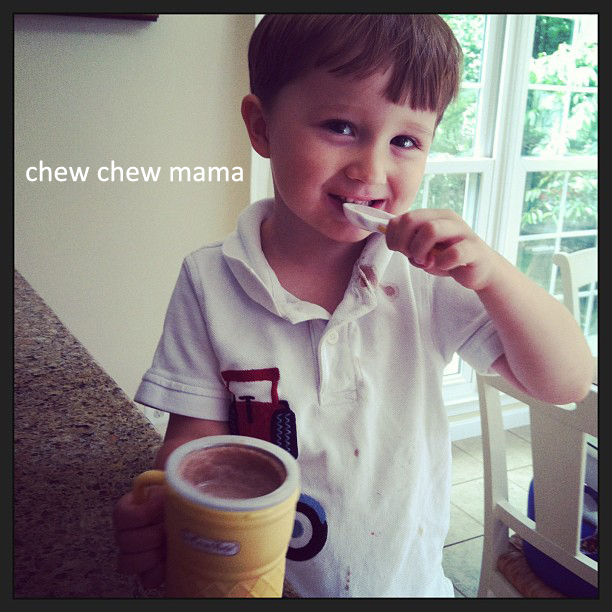 See that sweet smile?
That is the smile of a little boy that just discovered that he can make his very own peanut-free, ice cream right in our kitchen in 3 minutes.
We made this happen using Ice Cream Magic!  Before I continue with the rest of the details, I want you to know that I am not affiliated with the company or product in any way, but I am VERY glad that I bought it.
When my sweet son first asked me for Ice Cream Magic, my first reaction was that we didn't need it.  We've become accustomed to eating safe, peanut-free ice pops and avoiding regular ice cream for safekeeping of his food allergy.  On top of that, we have an awesome Cuisinart ice cream maker that Chew Chew Daddy enjoys using — but to be completely honest, it's been collecting dust these days (though not for long!)
"Pretty please, Mama?"
It's exceptionally hard to look into a smaller version of your own eyes without truly listening all the time, so when I asked the Cub why he wanted it, he simply stated: "so that I can make regular ice cream that's safe for me."
My heart melted.  I know he is not deprived in any way by not getting to eat ice cream on a regular basis, but I realized that though he is such a good sport when he has to pass it up, just like any other kid his age…he'd like some ice cream.
I took a closer look at this Ice Cream Magic and this is why I decided to say yes:
It's quick!  Whole process took 5 minutes, maybe 6.

All it requires is

ice

,

salt

and

4 ingredients or less

.

Makes a total of about 4 – 6 oz. of ice cream.  A small serving size. Perfect.

Once I set the timer, the Cub had to work for that ice cream and shake the container without stopping for 3 whole minutes (which proved to be harder than he anticipated!)

No cross contamination.  Made it in our kitchen.  Completely safe.

Dairy free options (we used Coconut Milk, because that is what I had on hand)

Because I got to say "yes" and it feels good to say that for all the times he hears, "I don't know if that's safe for you so we have to pass" or "It's not safe for you."

It was fun!

Easier than the Zip Lock bag method.

It was

SUPER easy to clean up

.

$11.00
Our outcome was  Chocolate Coconut Ice Cream made with only 4 ingredients (Ingredients: Coconut Milk, Sugar, Vanilla & Cocoa Powder) and he can't wait to do it again.  A happy Mama, a happy Cub and another positive food experience in the kitchen!
Click the image for making your own safe ice cream!
Happy, Healthy Eating!