One of the giant silver linings to my husband's job getting relocated to Washington, D.C. was our proximity to Dr. Robert Wood, M.D.  If you don't know, Dr. Robert Wood is one the world's leading allergists that works and does research at John Hopkins Children's Medical Center, Baltimore, Maryland.  You can read more about Dr. Wood here, read his CV/Resume here and take a look at all his published research on allergies here.
He knows allergies.
This is precisely why I had called to get my son on his schedule before I even finished unpacking boxes in our new home.  I'm always going to be completely honest to everyone reading this blog, so i'll admit that a teeny, tiny part of me was hoping that he would see something that my other allergist missed and that my son would get a "get out of allergy free" card by showing up in his office.  The educated, rational, clinical, health care professional side of me knew better — but the 100% pure Mama side of me left my heart a little hopeful.  It didn't matter that I knew better.  I love my son.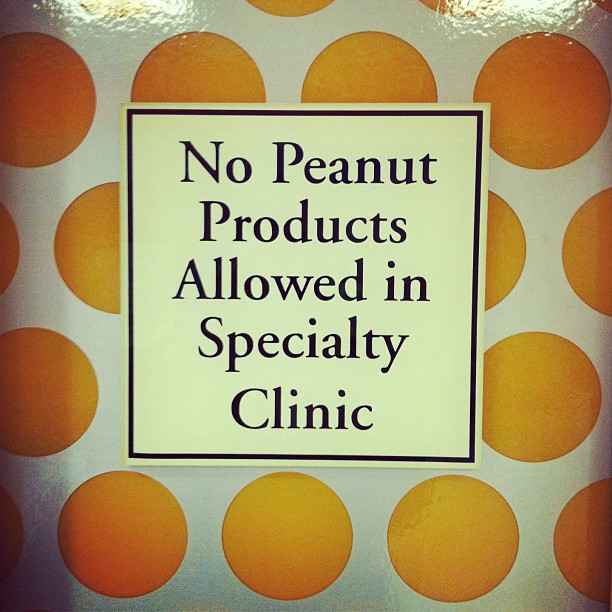 So here is how it went for us.
When we arrived to Johns Hopkins Children's Medical Center we were greeted by smiling employees and bright, happy decor.  Decor that I know all too well from working in a children's hospital myself.  You see, i've always looked at the fun paint colors, the toys and the decorations from the patient's perspective, the child.  It looks like a whole lot of fun when you walk into a children's hospital.  But for me this experience was surreal, because rather than being the clinician in scrubs that is coming out to meet the patient and family…I was the patient family.  My son was VERY happy with the sea of toys, the books and the movie playing in the waiting area.  All I could do was worry.  None of the colors, toys or movies felt fun to me when it was my son.  This allergy isn't new to us anymore, so I was surprised to be feeling this way.  The Cub has seen an allergist since he was 5 months old and has gotten blood work done before in a small allergist's office in our old home town, but here we were in the hospital.  A place that I LOVE to work, but didn't necessarily love when the tables were turned.  A very different feeling.
Once we were escorted to the examining room, my sweet little bear waited patiently.  He was very excited to meet his new doctor and wondered if he was going "to be as nice as Dr. Katz."  The first person to come into the room was Dr. Wood's fellow.  He greeted us, introduced himself and then took our history.  After he recorded it all, he left to brief Dr. Wood on us and we waited.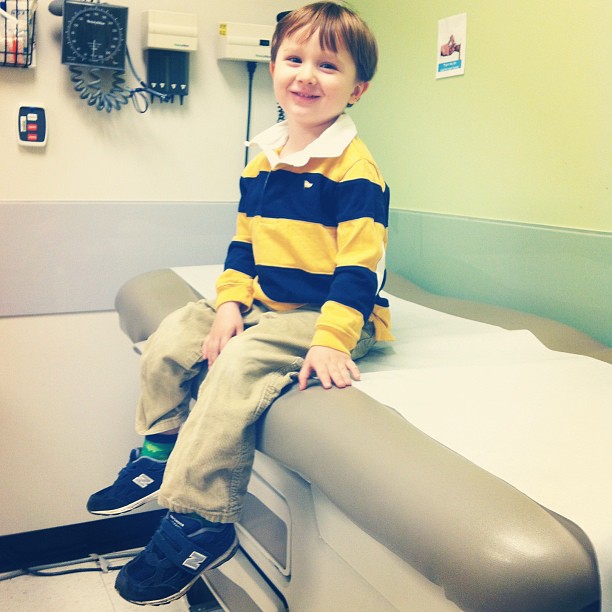 Within a few moments, Dr. Wood arrived.  He seemed very kind to meet in person and he entered the room with a smile and handshake.  He went over to my Bear Cub and said hello.  He was great with my baby.  He asked his name, his age, who was sitting in the infant seat next to him (his brother) and then he got to the good stuff.
Dr. Wood: "So what kind of allergy do you have?"
Cub: "I have a allergy to peanuts."
Dr. Wood: "I bet you know all about it."
Cub: "Yes, I do." (with a proud smile)
Dr. Wood: "Good job, Mom."
Dr. Wood took a look at the Cub and ordered updated blood work. We were able to get the blood work completed right there on site with no wait.  Dr. Wood stated that he does "not believe in repeat skin testing at all."
I had some questions for him that I had wanted to ask.  The first was in regards to the studies that claim that breastfeeding has been correlated with the peanut allergy. Before I tell you what his expert thoughts were, I will get on my soap box and tell you that these studies REALLY annoyed me.  Mostly because I am certified in lactation.  I know the benefits of breastfeeding and I also know that comparatively in other Countries, such as India, people eat diets rich in peanuts, breastfeed more than us and are not dealing with the same increase in the number of children with severe peanut allergies.  I left my thoughts outside the clinic and asked him what he thought about it.  Dr. Wood explained to me that while he knew of those studies, he also knew of the other studies that contradicted those results.  He was clear in his opinion that "breast milk is not going to hinder or help."  When I asked if eating some peanuts/nuts could possibly be good exposure — his answer was the same.  He does not believe that it causes peanut allergies, but did state that there is still more to learn about breast milk.  The mother's diet while breast feeding was a mute point to him.
Introducing foods — introducing early versus introducing late.  Dr. Wood said that both of "these ideas are merely theories and there is no real research to support either of them." He believes that if you are going to get an allergy, it doesn't matter whether you offer foods early or late.  You are going to get it no matter what you do.  Basically saying…it's out of our control.  Dr. Wood did say that our Cub's reaction (at five months old) to a kiss on his cheek from me after I had eaten peanut butter was "a gift" and that he "more typically sees children around the age of 15 months who have been given a peanut butter sandwich" and end up in trouble.
Vaccinations.  I asked Dr. Wood what his expert opinion was on the school of thought that theorizes that the Hib vaccination may possibly be the cause of the peanut allergy.  His answer to me was that he "does not believe there is any connection between vaccinations and the peanut allergy."  Now I will tell you that even in the presence of an expert — I still have some doubts on this one.  This could be his absolute belief and he can have certainty down to his core.  But that being said, there is still a very important reason why he would have to say this.  The support of his research by his peers in the medical community.  A large community that believes whole-heartedly in the AAP vaccination schedule. To my knowledge, Dr. Wood has never done research that specifically looks at allergies and the Hib vaccination.  If you want to read more about this theory, you can read The Peanut Epidemic, What's Causing It & How to Stop it by Heather Frazer.
Allergy Shiners.  I asked Dr. Wood if there was anything that I could do for my son's allergy shiners, because quite honestly, when I see them they make my heart break a little and I cringe when people ask me if my son is feeling tired when he sleeps for 12 hours straight every night.  The Cub always had a slight tan in Florida which made them less noticeable, but after one winter in the D.C. area…they are obvious.  At least to this Mama.  Dr. Wood told me that there WAS something that I could do for his allergy shiners…I could "get used to them."  Well played, Dr. Wood.
Siblings.  The littlest Cub was in the room napping.  Dr. Wood told me that 8 out of 10 siblings are diagnosed with the same severe peanut allergy and so we made a plan for Henry Bear.  He will be blood tested when he gets older.  If his blood does not show an allergy response, then he will have an allergy challenge at Johns Hopkins Medical Center.  If we choose to introduce it at all, it will be with the allergy team.
Dr. Wood was excited to share that the very morning that we arrived to Johns Hopkins Medical Center, he had received news that the Food and Drug Administration (FDA) had given his next research project the final approval and that he was going to begin the research in July.
He has already done research on adults with peanut allergies and on teenagers with peanut allergies.  But the research that has just been approved is research on children ages one to four years old.  He asked if we'd be interested in learning more about participating.  I told him that we would be interested in learning more, but not sure on participating.  So we are on his list.  I'll keep you posted on the blog.
At that point, the appointment wrapped up.  He asked if I had any additional questions.
Chew Chew Mama: "So just stay the course?"
Dr. Robert Wood: "Yes. Keep doing what you are doing."
Sigh.  A bit underwhelmed.  I wanted to learn more, to have something else I could do or try, but what I discovered was that in three years…I already knew the what, the whys and the what-to-dos.
Dr. Wood continued on to say that his team would be in touch with me in two weeks to review the blood work and that I'd also be hearing from his nurse about his research study.  We said our good byes and headed to the lab.
In the lab, my sweet little Cub lost his smile.  He cried hard and refused to take a prize afterwards.  "No thank you, I do not want a hurt prize." (the nurse was crushed).  I have to say that I wanted to give her a big hug.  She has such an important and hard job.
On a more positive note, the Cub did take the Chocolate Milk that Chew Chew Mama brought specifically for that moment.
AND to cheer him up we went to the National Baltimore Aquarium and had a lot of fun.  When it was time for lunch we saw that peanut butter and banana faux sushi was on the Aquarium's menu, so we skipped the aquarium food (and possibly contaminated table surfaces) and went next store to Chipolte (so much better & safe!)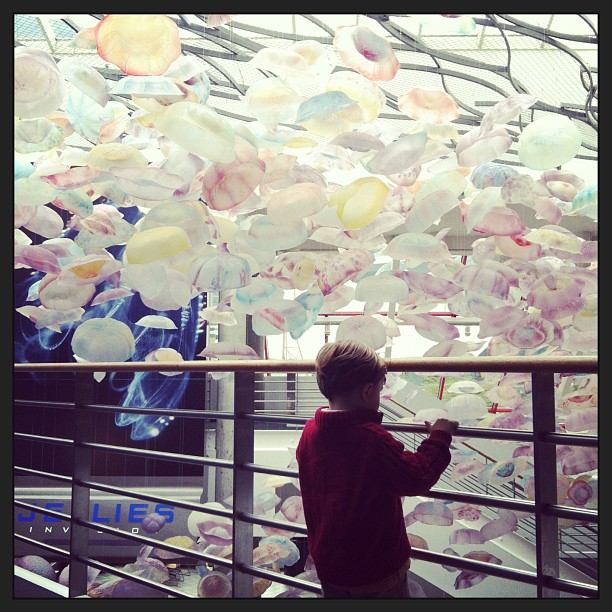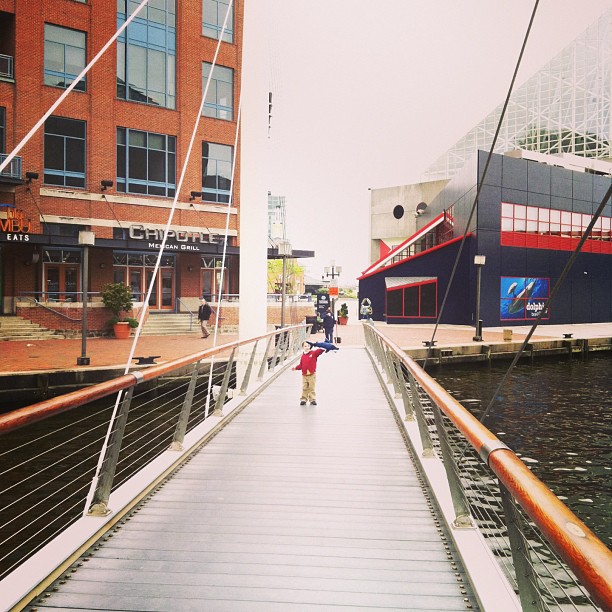 We had a great lunch date and talked about our favorite part of the aquarium.  It was the sharks.  In fact, we found a perfect, stuffed one in the gift shop to take home with us.  The Cub named him "Happy Shark" and Happy Shark got his blood taken all day today "to see what his peanut number is — we will know in a week."  The Cub is back to wanting to be an allergist when he grows up…that or "fixing things with Daddy and his dangerous tools."
Squeeze your babies.  They are all miracles.  Keep on doing what you are doing…with love!