Cindy Hooks Morrison, M.S., CCC-SLP, CLC
Peter Rabbit.
I'm pretty sure that he will stand the test of time and continue to be the most lovable character of the series, until of course, you've met his cousin Benjamin Bunny.  I'm partial to this bunny, because he shares a name with my own little one.  
We've long been fans of the beloved books by Beatrice Potter, so this Spring we set our DVR to record the new Peter Rabbit series that we were eagerly anticipating on Nick Junior.  It was an immediate hit with my sweet little boy.  He loves the characters and their adventures.  What I never expected was for it to be a pediatric feeding therapists dream as well!
In each and every episode the stars of the show, Peter Rabbit, Benjamin Bunny & Lily are hunting for HEALTHY food to eat.  They risk their lives for delicious foods like strawberries, carrots, radishes and beans!  I've purposely pointed out the foods in each episode and we talk about how much the characters really want to taste them.  IN FACT, we started to make a list of all the foods that Peter Rabbit and his friends LOVE to eat.
Here are some of the foods that we came up with from the show:  apples, carrots, cabbage, brussel sprouts, radishes, radish greens, lettuce, strawberries, green beans — just to name a few!
I immediately saw the beauty and the opportunity to take the message and go beyond the show.  I was definitely not going to miss the chance to reinforce the positive food message that this show offers.  It's so rare to see healthy food sort after, craved, enjoyed and hunted for on kids shows.  While I don't love all of your choices, Nick Jr., this show is a big win!
So are you all wondering what I did?
We had a Peter Rabbit Party – just the two Cubs and I after preschool this week. When the Cub got home, I told him that I got all of the foods from Mr. McGregor's Farm stand. He was amazed and excited!  His first words were, "Mommy, can I try the RADISHES first?!" Honestly, have you ever.  I get paid to have children try new foods…never has getting a radish in a child's mouth been easier.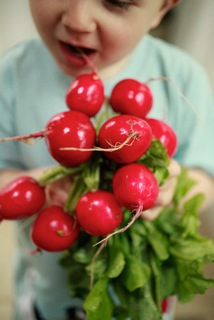 Ben helped me wash and put out all of the foods. We separated them just like the show into four rabbit/bunny categories, "Roots, Fruits, Greens & Beans." Ben got to explore all the foods and we talked about 1) their color, 2) how they grow, 3) the way the smell, 4) the shape they were, 5) if they were hard or soft, 6) what color they might be on the inside when I cut them. He couldn't wait to eat "Peter Rabbit food" and he tasted everything. 
We even put food out onto his baby brother's tray and he tried to get in on the action by looking, touching and gnawing on a raw green bean (check out what's in his hand).  Much to my oldest's dismay, he did not like the radishes as much as he thought he would and described them as "spicy on [his] tongue", but since he knows how much the rabbits like them…he didn't give up until he tried them once again sliced and then one more time in dip just to be sure.
PRAISE, PRAISE, POSITIVE PRAISE. So important to praise children for trying and for doing so at the level they are comfortable with whether they are crunching, licking, touching or even just looking.  The words, "Take a bite or Eat it." Never came out of my mouth. In fact, they are forbidden words in my home and at our table.
Ben was very excited to learn from mommy that carrots have a SUPER POWER. Do you know what carrots have the power to do?  In my feeding therapy treatment rooms and in our home — they have the wonderful power to make music. Just listen to that crunch! You can make it loud and you can make it soft. You can crunch fast and you can crunch slow. Through all of it…mommy cups her ear in eager anticipation of that sound and dances for each crunch (think vegetable beat box).
Giggles, dancing, music — makes food fun!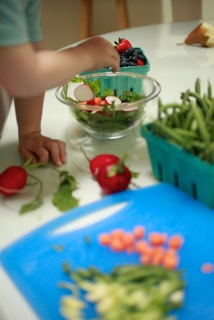 Brussel Sprouts were "hard to bite" so that is when I started to move things to the cutting board. I sliced a bunch of each fruit and vegetable onto the board while Benjamin pulled the greens from the radishes and placed them into our bowls to use as the base for our salads.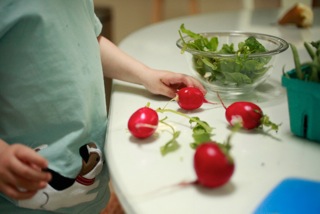 Once he was done with that, Benjamin got to choose from all of the chopped vegetables to make our salads for lunch. He even got to choose what Mommy got to eat. Turning the tables when you can and letting your kids make YOUR plate – now that is a child thrill!  My little chef made me a "licious creation" and I loved it.  And those brussel sprouts, well…Ben decided that the chopped brussel sprouts looked like "streamers" and "tasted better like that."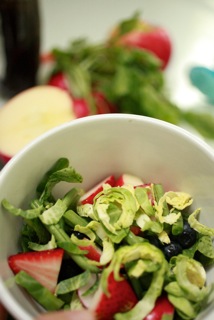 When the salads were ready and drizzled with strawberry vinegrette, we clinked our forks to toast to a great Peter Rabbit party and we enjoyed eating our rabbit food.  After all, the reason that Peter Rabbit, Benjamin Bunny and Lily, escape danger and get all that delicious food each episode is because their healthy food choices make them fast. How do we know?  You should see how fast we can run now.
We had the races to prove it – we are as fast as rabbits!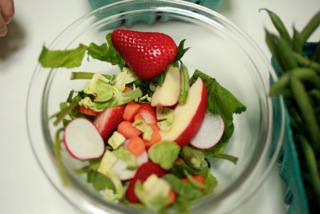 Make Feeding Fun!