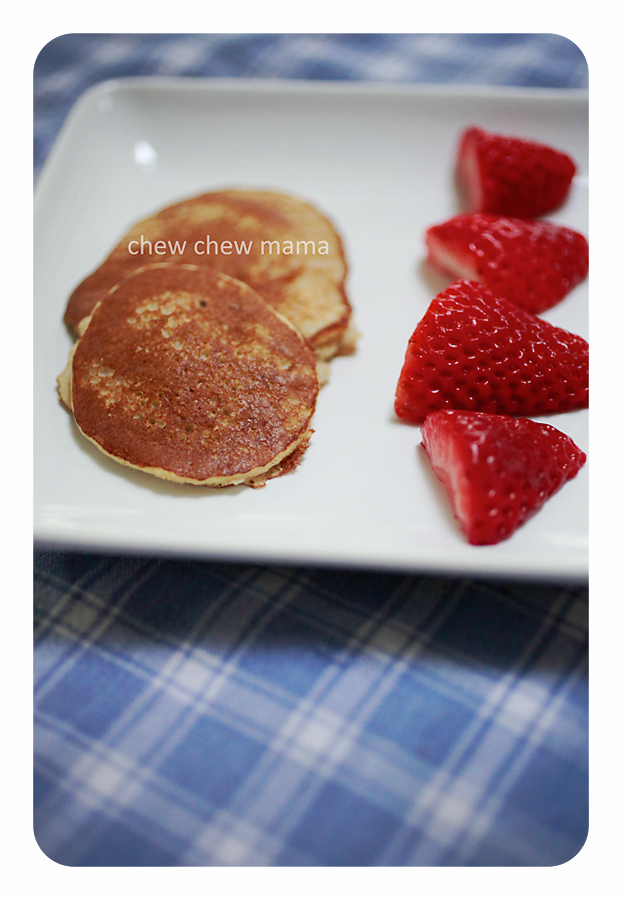 We have a new obsession at the House of Chew Chew Mama!
For the last several mornings i've been hearing, "Mommy, can you make me banana pancakes?"
And i've been saying yes, because they are so easy and so fun to make.  If you are looking for something homemade that is quick and easy…this is it!
I recently saw a recipe pinned on Pinterest that suggested combining only 1 banana and 2 eggs to get banana pancakes.  I was excited to try them out, but was a little disappointed that they didn't really hold their form unless I used A LOT of oil.  I ended up calling them Banana Pancake Scramble.
But I didn't want to give up on the idea of getting rid of wheat, so I started tweaking the recipe.  After three attempts, I discovered just the right combination and it's a winner with everyone in our Chew Chew Family.  
These pancakes are both peanut free and gluten free.  Best part of all, there is no sugar in this recipe, these pancakes are sweetened by the banana so they do not require syrup either. The Cub doesn't even ask for syrup and continues to gobble them all up!
Banana Pancakes
Yields 8 – 10 mini pancakes
1 Banana
2 Eggs
1/4 cup of Brown Rice Flour
1/4 teaspoon of cinnamin
1/2 teaspoon of vanilla
Mix all ingredients together.  Cook over medium to medium-high heat. About 1-2 minutes per side.