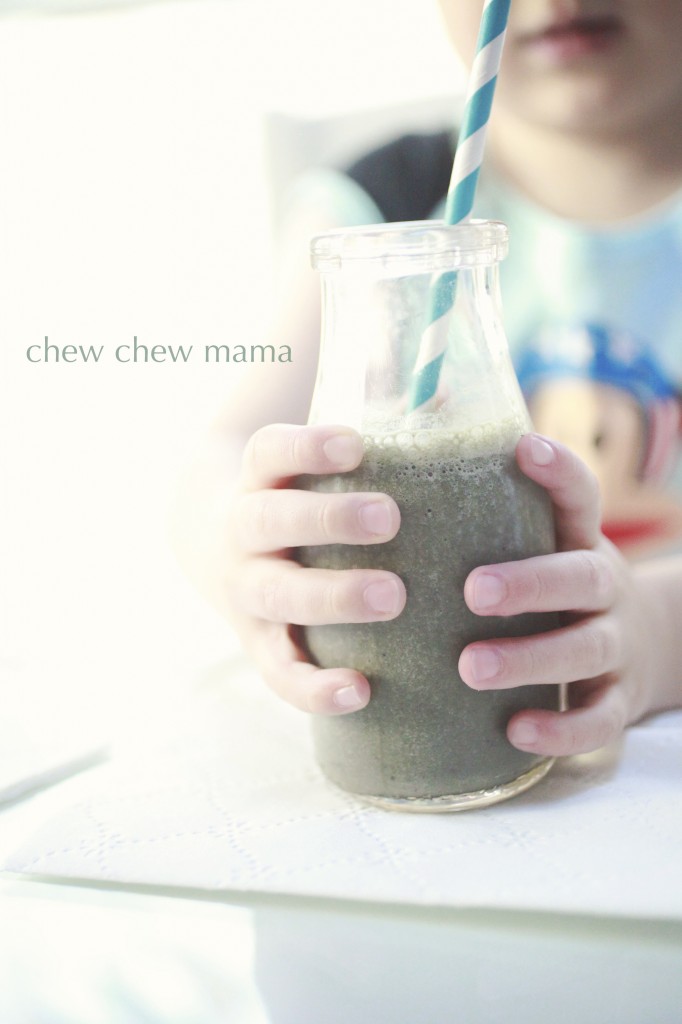 You were expecting a pink smoothie, weren't you?
Part of our new mid-morning routine includes the Cub and I enjoying a delicious smoothie while the littlest Cub in our family is enjoying his morning nap.  Smoothies are such a wonderful, toddler-friendly way to "cook" in the kitchen.  Each morning I pull out frozen organic fruit and some coconut milk and I let the Cub decide what goes inside.  We always choose several different colored fruit ingredients and one vegetable choice.  Since he has never had a smoothie without a vegetable inside, he thinks that is just a normal part of making a smoothie.
We love watching all of our ingredients whirl in our Vitamix and the Cub excitedly shouts out the color that his smoothie of the day is turning into.  I always enjoy his enthusiasm to taste colors other than the standard pink and purple smoothies.  I know he does this without hesitation, because he is allowed to be part of the process of making them.  The Vitamix has absolutely spoiled us by blending even the toughest vegetables into the most wonderful, smooth consistencies.
Today when we were through, the Cub took a great big sip of his smoothie and proclaimed: "Mmmmm, it tastes like BUBBLE GUM!"
This made me laugh because clearly it doesn't look like bubble gum and also because the Cub has never tasted Bubble Gum.  Imagine my surprise when I tasted this morning's smoothie and it absolutely did taste like bubble gum.
We thought we'd POP it onto the blog and see if you'd like to try it out!
Bubble Gum Smoothie
1 Cup Unsweetened Coconut Milk
1/2 Cup Water
1 Banana
1/4 Cup Dark Cherries
1/4 Cup Pineapple
1 Cup Spinach

Blend all the ingredients until smooth and enjoy!