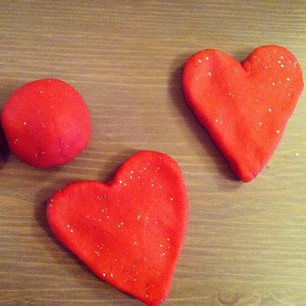 Check out this adorable SPARKLE, GLITTER PLAY DOH!
I just love hearing from readers and seeing the wonderful things they are creating!  This sweet little girl and her fantastic mom not only made one food free/peanut free adorable Valentine — they made TWO!
How lucky are the kids going to be at Ella's preschool?!
Miss Ella (age 3), you melt my heart!  Happy (& Safe) Valentines Day to you all in Charlotte, North Carolina.
Did you try out one of Chew Chew Mama's Top Ten Food Free Valentines?  If you did, send me a photo, so we can share some more love on the blog!