Can you believe it's time to talk about Valentine's Day already?
It's amazing the difference that one year can make when you have a child with a peanut allergy.  Last year, I enjoyed crafting with the Cub and making safe, peanut free, homemade treats that you can read all about here.
But this year is an entirely new phase for Chew Chew Mama.  You see this year our Cub is in preschool and has a much better understanding of how holidays work.
This year he is very excited that we are decorating our home with hearts and "telling the whole world that we love them."  On our walk earlier this afternoon, he even told the ghost moon in the sky "taking a walk with us" that he loved it and would "send a Valentine."   He is very excited to hand out Valentines to his friends at school and looking forward to having a "Valentine's Day Party with Special Snack."
Yes.
You read that right.
Special snack.  Sigh.
Wouldn't it be nice if one day children could celebrate holidays with crafts, songs and dancing in preschool instead of special foods and lunch parties? One can dream!
So what do I do?  Do I keep him home from school that day out of my own fear and shower him with everything safe and fun like my maternal instinct wants to or do I empower my three-year-old little boy by teaching him how to protect himself and remain included?
These are the moments when being an allergy parent becomes harder.  You know, when it's time to deal with the "letting go with love" part.  Now don't get me wrong…I realize that I am not sending him off to college yet, but these little school parties can be life changing for families when a safe plan isn't in place.
So here's what I decided to do. I love my son so much that i've decided to wrestle and quiet the overly controlling, helicopter mom that tends to creep up from inside of me and come out from time to time to over protect him.
I've decided to choose the answer that is best for my son who is growing up so quickly and embracing his little world with wonder, excitement and great big smiles.  The answer for me this year is to empower him and to continue to teach him.
I refuse to be the Grinch that stole Valentine's Day and I am doing what allergy parents do – deciding the best plan for my child.  I've had meetings ahead of time with the Cub's classroom teacher to ask her what her plans may be.  And now that I know, our family has come up with a safe plan of action of our own.
This year's classroom plan includes mini pretzels dipped in colored chocolate and covered in sprinkles to look like little hearts and a side of apple sauce.  I have placed our order from Vermont Nut Free Chocolate for safe white chocolate.  The Cub and I will get to enjoy melting and dipping our safe pretzels and then will cover them in safe pink and red sprinkles to be brought in to school as his "special snack" on Valentines day.
Not only will this be a fun and special time for us to share, it is also the perfect opportunity to talk about the food at the party and how we just never know if it's safe or not?  We will also go over the rules for sharing food (we don't) and for exchanging Valentines (we are SO excited and we can't wait, but we do not eat any until they're checked at home).  In making these treats together, he will have almost identical treats as the other students — but the difference will hopefully remind him of our safety talk.
Or he will just be three-years-old, not notice the difference at all and gobble them up as fast as possible.  Either way…it's a win-win. He will be safe.
The children will be exchanging Valentines with our little sweet heart.  The Cub's will go directly into his Valentine Bag and he will be able to go through them with us at home after school.  The classroom teacher and two classroom aides will be checking all the Valentines to ensure that everything that was sent into the classroom is safe.  As always, they have his epipen at school and we are lucky enough to have a school that keeps it in his classroom.
Once the plan is in place, all we can do is exhale and focus on the fun.  So without further delay, here are Chew Chew Mama's Top Ten FUN, Food Free Valentine's for 2013.  If you'd like to see last year's Top Ten, click here.
1) You Rule by Thompson and Spring!  All I have to say about these is that they are ADORABLE!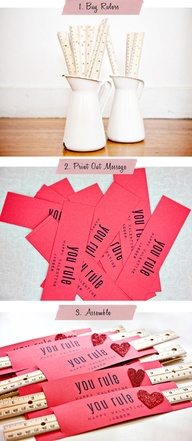 2) You Make My Heart Glow! How fun are glow sticks?!  Imagine the fun of going to sleep with one from a Valentine on Valentine's night! (If you know who made this adorable Valentine, please let me know!)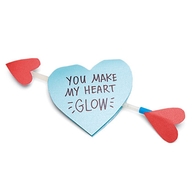 3) You Make My Heart Float by Home Made By Jill Blog Spot. This is another take on the bubble valentine and I love this one as well!  Mostly, because the bubbles are a bit larger so they will last longer and you can most likely find the bubbles at the dollar store – great printable too!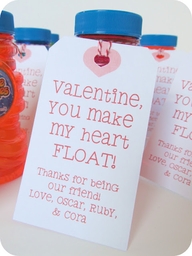 4) Secret Messages by Happy Home Fairy!  Wonderful idea!  This will be more fun for kids a bit older than the Cub that can actually write secret messages.  We will be doing some of these just for fun with shapes! (Hint:  this not our actual valentine choice this year)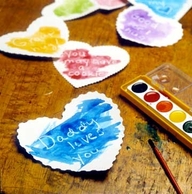 5)Valentine, You are the target of my affection by the Crafty Crow: What toddler, especially boys, would not love collecting & making these?!  Adorable!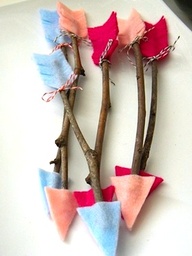 6) I Like How You Roll by Thirty Hand Made Days.  Boys!  Does it get anymore boy than this?  As a mother of two boys, I love this one too!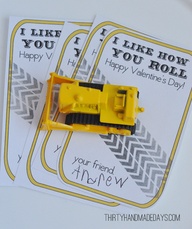 7) You're Just Write For Me by Crafted By Lindy! Sweet and simple and food free!  I love this sweet Valentine!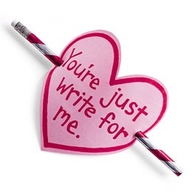 8) Thumb Body Loves You is so sweet and easy!  As far as i'm concerned, i'll take every opportunity to capture and save these tiny finger prints!  They even make me smile when I wash them off of my refrigerator door!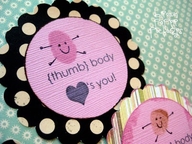 9) Let's Build Something Beautiful Together by Chez Beeper Bebe!  Lego Valentine!  Oh my! Genius!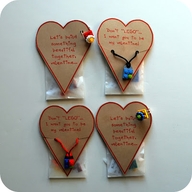 10) Wood You Be My Valentine by The Craft Crow.  Perfect craft and can collect smaller pieces to glue on to Valentines with the same concept during a nature hike!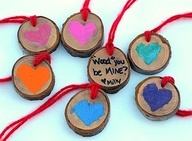 Bonus #11) You Make Me Loopy:  Too Cute! Over here we'd say "We are Crazy about You" — crazy straws are so fun and promote great lip rounding as well 🙂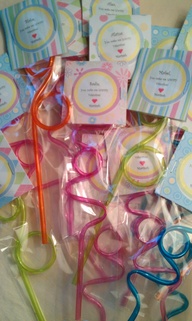 Here is a link to some adorable and free printables by Pumpkins and Posies, requiring only a printer.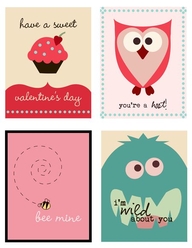 And ONE candy Valentine by Zakka Life, because I love that the Tootsie Roll Company is a peanut free company (as of today) and I also love a safe sweet!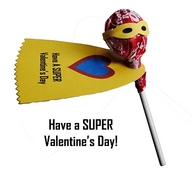 Whether you choose one of these great ideas or just pull out paper, markers and crayons and let your child's imagination take over, be sure to have a "SUPER" and SAFE Valentines day!